On their way to the Thompson Tower, a woman drives her 1959 Ford Thunderbird convertible very erratically, resulting in the destruction of the complex and trapping a family in the basement.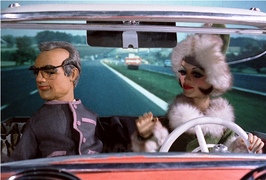 Dangerous Driving
The woman driver swerves in front of Joe Carter which draws the attention of the highway patrol, who pulls her over and issues her with a ticket. The woman then continues her journey to he underground carpark of the Thompson Tower.
The Crash
Entering the underground car park too fast, the driver's foot slips off the brake and onto the accelerator, causing the car to crash through the entrance barrier and into a post. The car explodes and catches fire.
The resulting fire destroys the whole building causing it to collapse, trapping the Carter family in the underground subway.
Trivia