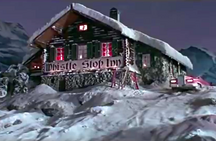 The Whistle Stop Inn is a railway themed restaurant in Switzerland that appeared in the Thunderbird 6 movie.
Interior
The restaurant is quite unique in that it actually uses a model railway layout with model steam locomotives and rolling stock to bring the food from the kitchen to the tables rather than waiters. Alan and Tin-Tin were both quite impressed with the set-up. Also, it has a replica of a steam locomotive in the center of the dining room.
Diners
Altogether, there were 32 diners inside the restaurant. In terms of the number of puppets, it is the biggest crowd scene ever filmed in Supermarionation.
Other appearances (Isn't that...?)
Table 1 (back row, left)
Table 2
Table 3
Table 4
Table 5 (front row, right)
Table 6
Table 7
Table 8
Trivia
Judging by Tin-Tin's phrase "it must've being fun riding on trains like this years ago", it seems that by the 2060s the steam railway preservation movement has become confined to museums, especially with the introduction of the monorail system.
The trains used are OO/HO Scale trains made by British model train maker, Hornby, and the rolling stock came from Triang. Some of the trains used were a LNER B12 4-6-0 in British Railways Black, a British Railways Standard 9F 2-10-0 along with Caledonian 4-2-2 Single No. 123, in its company's color, Caledonian Blue.
This restaurant is based of one of various locations around the world with this concept. In Prague called The Boiler House, LGB trains deliver beverages to both the bar and the various tables, in the U.S, a diner called the Choo Choo Diner uses O scale Lionel trains, and there was once a restaurant called the Iron Horse Restaurant located in Seattle, Wa, but closed in November 2000 due to rising rent and lack of patrons. The trains, track, and railroad memorabilia have all been sold off at auction.
The knitted sweater worn by no. 3 was previously seen in Stingray.