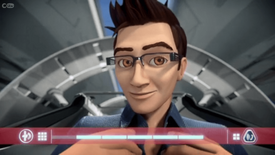 Tycho Reeves is the inventor of the Hypercar, whose prototype was being tested out with himself and two other passengers on board. Unfortunately for them all, the Hypercar kept on getting faster and faster, so International Rescue had to come to their aid. Scott attempted to change the batteries with assistant from Mini-MAX, however that only sped the Hypercar up even further.
Brains, who happened to be a fan of Tycho, discovered what was really wrong; there was a miscalculation in the formula of the Hypercar. After further assistance from Thunderbird 4 and Thunderbird 2, Tycho, Scott and the two passengers were saved. Afterwards, Brains agreed to help Tycho in building an improved and much safer Hypercar.
Appearing in Hyperspeed, Tycho was voiced by David Tennant. He was later mentioned by Colonel Casey in Break Out as she credited him as a genius without criminal records.