Turbocharged Thunderbirds

Genre

Action, Comedy, Science Fiction

Written By

Mark Cronin
Gary Auerbach

Directed By

Robert A. Tercek

Starring

Travis Wester
Johna Stewart
Tim Curry

Composer(s)

Birch Johnson (Uncredited)
Ed Potokar
Gary Anderson

Episodes

13

Original Airdate

18 December 1994 (United States)
4 September 2009 (Japan)
"Yo Alert! Yo Alert! Yo Alert!"
— S.A.L.
The second attempt to modernise the classic Thunderbirds series for a 1990s American audience, Turbocharged Thunderbirds is a combination of mixing original Supermarionation footage with specially-filmed live-action inserts. As with the 1994 Fox Kids repackage, all existing audio was removed and redubbed with new voice actors and musical cues.
In contrast to the successful Mystery Science Theatre 3000 parody series, this union of classic and new footage was mixed to give the impression both puppet and human cast were communicating with one-another, as opposed to strictly watching the adventures play out on a screen and give humorous commentary as they went along.
Origins
A co-production between the now all defunct Polygram, Bohbot Entertainment Worldwide, Propaganda Films, and ITC Entertainment, this new take on the series came about from ITC America looking to cash in on the Thunderbirds popularity, similar to endeavors seen in other countries, even after the failure of its 'sister' incarnation, the 'Fox Kids Series'. As they had the right to edit or modify the source material, the decision was made to attract attention of younger viewers by heavily reworking the show. The series began broadcast on Sunday the 18th of December 1994 as part of the Amazin' Adventures lineup on various UPN affiliates.
Plot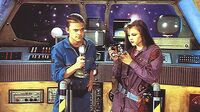 Set at some point in a distant future (2096 according to the ITC marketing kit) dominated by zero-gravity skateboarding and virtual windsurfing, Turbocharged Thunderbirds centres around the juvinile antics of an all-American teenage pair named Roxette and Tripp. Both are intrepid space explorers, who one day stumbled upon an uncharted planet named Thunderworld. Upon their investigation, the pair intercepted an SOS signal that would ultimately land them in the job of a lifetime.
Making their new home in the orbital space-station christened "Hacker Command" (formerly Thunderbird 5), Roxette and Tripp were swiftly put under the guidance of S.A.L., a "Simulated Artificial Lifeform" built into their computer systems. The pair were given a special task: to monitor any and all possible risks to human life on the planet below. Should any dangers arise, Roxette and Tripp make the call to Jeff Tracy (or affectionately named "Mr. T" by the pair), who gives the order, and "Thunderbirds Are Go!"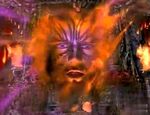 Aside from the inclusion of two "Hack Masters" and S.A.L., another new character was incorporated into the series. Instead of generally operating alone, the Hood and his subservient assistants worked under the commands of his master The Atrocimator, a spiritual entity in the form of a semi-transparent floating head. The Atrocimator (who could be summoned from behind a veil of beaded curtains) was determined to ascertain top-secret information on International Rescue's machines and methods, as they would be utilised to bring mayhem and destruction. This would result in his total conquering of the world.
Episodes
Ep. #
Title
Director(s)
Writer(s)
Original Airdate (U.S.)
Duration
Source Footage
1
Trapped in the Sky
Robert A. Tercek
Mark Cronin & Gary Auerbach
18/12/1994
0:21:40
Trapped in the Sky
When Roxette and Tripp discover a bomb planted on the Fireflash, it's up to them to figure out a solution for safely landing the airliner. Will Tripp's suggestion of dumping marbles on the runway prove to be more than a bad joke?
2
Martian Invasion
Robert A. Tercek
Mark Cronin & Gary Auerbach
25/12/1994
0:22:32
Martian Invasion
Tripp mistakes a major motion picture shoot for a real alien invasion. Jeff believes it to be a deliberate case of teenage hijinks, and continues to ignore the boy even when the film is sabotaged. Can Roxette persuade Mr. T to check out the scene and put an end to The Atrocimator's latest scheme?
3
Ready, Set... Danger
Robert Tercek
N/A
01/01/1995
0:21:45
Desperate Intruder
A vacation to unearth the lost treasure beneath Lake Anasta goes horribly wrong for Brains and Tin-Tin. To make matters worse, Tripp is put under The Hood's hypnotic powers, leaving both the expedition and Hacker Command out of action.
4
Ricochet
Robert Tercek
N/A
08/01/1995
0:21:26
Ricochet
It's a tale of two Tripps, as an experiment to duplicate his favourite snack results in the young Hack Master being split into a duo of very distinct personalities.
5
Attack of the Alligators!
Robert Tercek
N/A
15/01/1995
0:21:45
Attack of the Alligators!
Roxette finds herself in a double dose of trouble in various proportions; It's up to her to find a cure for a new growth chemical that increased a group of Alligators to great size, and solve the mystery of the incredible shrinking Tripp.
6
The Lost Pyramid
Robert Tercek
Mark Cronin & Gary Auerbach**
22/01/1995
0:21:41
The Uninvited
When Scott Tracy and a pair of far-out music lovers become caught up in an intergalactic terrorist business transaction, Roxette must find her true voice and save the world from a terrible fate.
7
Sun Probe
Robert Tercek
N/A
29/01/1995
0:21:41
Sun Probe
Tripp's attempt to give S.A.L. an upgrade results in the program running wild, even refusing to help when Thunderbird 3 becomes trapped on a collision course with the Sun.
8
The Edge Of Impact
??
??
05/02/1995
0:22:32
Edge Of Impact
By wire-tapping Sky Control, The Hood is determined to sabotage the Red Arrow project with a psychological ELF wave. How will the Hack Masters save a nearby outpost if they can't stop fighting amongst themselves?
9
The Fog
??
??
12/02/1995
0:21:26
Danger At Ocean Deep
An April Fools' prank backfires on Tripp, as the Ocean Pioneer King is destroyed under his watch. How can the Hack Masters aid International Rescue's next mission? The fatal Fog has penetrated Hacker Command!
10
Brink of Disaster
??
??
19/02/1995
0:21:41
Brink of Disaster
S.A.L. is on the blink again, causing a major communication blackout. How will Roxette and Tripp get in contact with Mr. Tracy to warn him the new Astro Rail he is riding has been sabotaged?
11
Codename: Revenge
??
??
26/02/1995
0:21:51
The Man From MI.5
Tripp becomes distracted by kick boxing practice when he was supposed to be monitoring the Aqua Institute. The yacht carrying a major government dignitary is subsequently destroyed. Furious, Lady Penelope leads the investigation herself by going undercover.
12
The Imposters
??
??
05/03/1995
0:21:45
The Impostors
Footage of an International Rescue mission is caught live and subsequently broadcast on television. Roxette and Tripp immediately become suspicious of how they missed the Photo Alert. They are proven correct upon discovering the voices are not those of the Tracy brothers.
13
Home All Alone
??
??
12/03/1995
0:17:57
Atlantic Inferno
It's party time down at the Mining Station, but Roxette and Tripp soon discover there is very little to party about. The Hood blows up offshore oil deposits, and the Tracy Family begin disappearing one-by-one!
N/A = There are no on-screen credits for whomever wrote these episodes.
**=Live Action segments only.
Cast and Credits (as of Episode 7)
Main article: List of Credits in Turbocharged Thunderbirds
Live-Action Cast
Voice-Actor Cast
Notes
According to Broadcasting & Cable, the overhaul from Thunderbirds to Turbocharged Thunderbirds cost $1.75 million dollars.
If the above article is any indication, it could be theorised that Turbocharged Thunderbirds was created at the last minute to maintain local interest in the Thunderbirds property. With the hindsight of time on our side, evidently it didn't quite work out the way they had hoped.

Speaking of the Fox Kids series, there may be a parallel between the selection of episodes chosen for each version of the show. Most of the source material for Turbocharged Thunderbirds was lifted from later episodes (with a few exceptions), while the Fox Kids series focused on stories produced earlier.

For instance, Pit of Peril, and Terror in New York City were never Turbocharged, as they had been part of the Fox Kids Series. However, that didn't stop them reusing Martian Invasion and The Uninvited again.

There is general confusion as to the correct grammatical usage of "Turbocharged". Some sources emphasise the 'c' (resulting in "TurboCharged"), while others, including the series logo, suggest it be two separate words ("Turbo Charged"). For this article's sake, the more popular variation used by fans is being adopted.
One particularly long-standing rumour surrounding the series concerns the late Gerry Anderson's (or lack thereof) involvement. As the story goes, he was less than thrilled by the results, demanding not only that his name be removed from the credits, but also have the master tapes destroyed. Evidence for the former demand occuring is evident in the closing credits, as the editors blurred out his name under the 'teleplay' section when Thunderbird 4 appeared on screen.

The latter rumour holds very little weight, as the series (after waiting nearly 15 years) was broadcast for the first time in Japan on September 4, 2009. Either the reports on the series destruction were a fan-produced fabrication, or it had to have occured sometime between July 28, 2010 (the last reported broadcast) and December 26, 2012 (Mr. Anderson's passing).

On the other hand, Gerry Anderson sold his share of the rights to Thunderbirds to Lew Grade in the early 1970s. Hence, he would have had absolutely no power to demand the destruction of the series.
Trivia
During the opening credits, an unspecified space shuttle is seen approaching and skimming across the surface of a ringed planet. This footage was lifted from the 1980 British science fiction thriller movie Saturn 3. The film was produced through ITC Entertainment, who were the then-owners of the Thunderbirds franchise.
While it never underwent the Turbocharged treatment, the opening credits include a brief scene from Day Of Disaster where the Allington Suspension Bridge collapses.
Contrary to popular belief, Turbocharged Thunderbirds hired an entirely new cast of voice actors, as opposed to keeping the audio recorded from the Fox Kids series. It was mandatory to hire (or even rehire) a cast in order for the characters to interact with the Hack Masters.
Foreign Names
Japanese: Turbocharged Thunderbird (ターボチャージド・サンダーバード)