"Trial" is the twenty second episode of Thunderbirds 2086, and twenty fourth produced overall. The episode first aired at an unspecified point after 1982.
Plot
A race of highly evolved beings have been watching countless civilizations across millions of years. Humanity have become their latest test subjects, and they must decide whether the species pose a threat to the universe. It's up to the Thunderbirds to convince the beings that Earth has evolved beyond its savage past.
Quotes
(To Be Added)
IRO Equipment Used
Trivia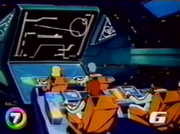 Trial was the final episode of TechnoVoyager to be produced. Due to minor episode shuffling however, it was not the finale of Thunderbirds 2086.
This episode did not air in Japan.
Anderson Stock Library
Foreign Title
Japanese: ネプチューンの試練 ("Neptune Ordeal")