"OK, boys. That's the brief. It's our first assignment, so make it good."
— Jeff Tracy
Trapped in the Sky is the first episode of Thunderbirds season 1. It first aired in the UK on September 30, 1965, but had its world premiere on Dutch TV, on September 15 1965.
Plot
The Hood places a bomb aboard an airliner in order to be able to photograph the Thunderbird craft as they attempt to rescue it. International Rescue must simultaneously save Tin-Tin, who is aboard the airliner, and thwart the Hood's devious plans.
Storyline
Main article: Trapped in the Sky/Storyline
Transcript
Main article: Trapped In The Sky/Transcript
Cast
Regular Characters
Guest Characters
Cameo Roles
Crowd Scenes
International Rescue Equipment Used
Non-International Rescue Equipment Used
Locations
Credits
Produced by: Gerry Anderson
Directed by: Alan Pattillo
Associate producer: Reg Hill
Director of photography: John Read
Character visualisation: Sylvia Anderson
Lighting cameraman: Paddy Seale
Special effects lighting: Michael Wilson
Camera operators: Jimmy Elliott, Alan Perry
Art director: Bob Bell
Special effects director: Derek Meddings
Puppetry supervision: Christine Glanville, Mary Turner
Teleplay by: Gerry & Sylvia Anderson
Music composed and directed by: Barry Gray
Puppet operators: Yvonne Hunter, Wanda Webb
Sculptors: John Brown, John Blundall
Wardrobe: Elizabeth Coleman
Assistant art director: Grenville Nott
Character voices: Sylvia Anderson, Ray Barrett, Peter Dyneley, Christine Finn, David Graham, David Holliday, Shane Rimmer, Matt Zimmerman
Editors: Len Walter, David Lane
Supervising sound editor: John Peverill
Sound editor: Brian Hickin
Special effects assistant: Brian Johncock
Puppet properties: Eddie Hunter
Property master: Arthur Cripps
Sound: Maurice Askew, John Taylor
Uncredited
Trivia
This is the first appearance of The Hood, who becomes a recurring villain in a total of six episodes. Apart from this episode, he also appears in Edge Of Impact, Desperate Intruder, The Mighty Atom, Cry Wolf and Martian Invasion, as well as the movies Thunderbirds Are Go and Thunderbird 6.
The Fireflash reappears in Operation Crash-Dive and has a small role in The Duchess Assignment, The Man From MI.5, and The Impostors.
Alan is voiced by Ray Barrett in this episode alone. In future episodes, he would be voiced by Matt Zimmerman.
Air Terrainean's Lieutenant "Bob Meddings" is named after Thunderbirds art director Bob Bell and visual effects supervisor Derek Meddings.
The end credits music for this episode is Thunderbird 1's launch music. The reason for this is the original ending theme, a vocal piece sung by singer Gary Miller, was deemed unsatisfactory and removed weeks before its airing. In all other episodes, a dedicated arrangement of the Thunderbirds main theme is used.
This is the only appearance of the Elevator Cars.
This episode was originally 25 minutes long. After having been screened for Lew Grade, then ITC's financier, it was so critically acclaimed that Grade ordered it (and the series as a whole) to be brought up to 50 minutes for a full hour airing.
Footage from this episode was reused in the clip show Security Hazard.
The episode originally didn't come with an on-screen title card, until Carlton International added one, it's however only featured on BBC2/Boomerang/Cartoon Network transmissions and on Carlton's VHS/DVD releases.
On 15th September 1965, AVRO aired a Dutch-dubbed, black-and-white version of "Trapped in the Sky" in The Netherlands, 15 days before it first aired in the UK.
According to the Gerry Anderson Story in Volume 5 of Gerry Anderson: The Vintage Comic Collection, inspiration for this episode came from Anderson's National Service at RAF Manston. Whilst up in the control tower, he watched a plane make an emergency landing with its undercarriage still retracted, and amazingly none of the crew were seriously injured despite the tricky landing.
Footage of the emergency services heading off was reused in Captain Scarlet and the Mysterons in the episode "Flight 104".
The shot of the third elevator car swerving out of control was originally filmed by accident, but Derek Meddings liked the shot so much that he persuaded Gerry Anderson to write the scene into the episode.
Puppets
Goofs
Main article: Trapped In The Sky/Goofs
Alternate Versions
Main article: Trapped in the Sky (Fox Kids Series)
Main article: Trapped In The Sky (TCTB)
Main article: Fireflash (TB2015)
The Thunderbirds Are Go! series featured a remake of Trapped in the Sky, simply titled Fireflash.
Foreign Titles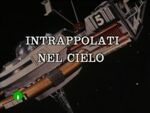 French: Pris au Piège (VHS)
German: Gefährliche Landung (TV), Das fliegende Gefängnis (DVD)
Spanish: Atrapados en el Espacio (DVD)
Italian: Insidia nel cielo (8mm); Prigionieri del cielo (TV); Intrappolati nel cielo
Dutch: Gevangen in de lucht
Japanese: SOS原子旅客機
Portuguese: Armadilha no Céu
Gallery
Main article: Trapped In The Sky/Gallery