The Tracy Villa is the largest structure on Tracy Island. The extended Tracy household consists of Jeff Tracy himself, his mother and his sons; as well as Kyrano, his daughter Tin-Tin and engineering genius Brains.
Tracy Villa
[
]
A streamlined two-story villa to Jeff's personal design, sited on an outcrop of rock overlooking a palm-fringed apron - which offered the perfect location. The décor of the main house reflects Jeff's taste in oriental design and culture.
The Verandah
[
]
Tracy Villa Interiors
[
]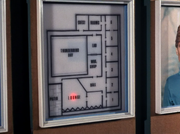 A spacious lounge forms the focus of the main building, with family bedrooms and a small laboratory workshop on the same floor - all fitted with the latest audio and visual systems, including micro-layer flat-screen TVs and total-surround audio players. There's also a family dining room, a breakfast nook and a modern kitchen fitted with the latest-model atomic cooker.
From the lower floor, access can be made to a complex of leisure facilities built into the island's labyrinth of caves. A gym, shooting range, billiard room, a small cinema, a music room and an indoor pool are just a few of the amenities that the Tracy family can enjoy during moments of relaxation.
Kitchen Areas
[
]
Just off the kitchen is a small tropical patio, with a door leading outside the villa (from Give or Take a Million).
Virgil's Bedroom
[
]
Tin-Tin's Bedroom
[
]
Grandma Tracy's Bedroom
[
]
Alan's Bathroom
[
]
Snooker & Billiard Room
[
]
Shooting Range
[
]
Scott, Gordon and Virgil take some shooting practice, in the episode Operation Crash-Dive.
Medical Room
[
]
Also referred to as the sick room.
This fully-equipped facility is fitted with two beds, each with the latest Auto Nurse monitors, for patients; as well as a desk for Brains' use, so he can carry out medical tests.
Hallway
[
]
Ground-Floor Laboratory
[
]
Brains has a laboratory on the ground floor of the Villa (as well as below ground). The room is also equipped with early-warning radar.
Tracy Lounge
[
]
The center of family life (accessed by a smaller reception room leading off a central hallway), the Tracy Lounge is spacious and well-lit. Angled French windows along one wall open onto a full-length balcony, from the split-level floor space. Directly facing Jeff's desk, to the left of the room's main entrance, visitors will see portraits of his five sons in everyday casual attire. These are changed from their IR-uniform portraits, if there's a need for Operation Cover-up.

Relaxing Between Missions
[
]
Jeff Tracy's Desk
[
]
In the far corner diagonally opposite the main entrance, are Jeff's desk and work station. Behind the desk are shelves lined with books and personal mementos, surrounding a video monitor built into a compact electronic control unit and communication post. Originally mounted on twin supports (prior to recent redecoration), the desk could be raised to the ceiling when not in use - but as this proved rarely to be the case, it was replaced with a larger, conventionally-supported version. However, this newer model lacked the flip-top feature of the original, which initially housed an electronic keypad and printer.
Jeff's Secret Safe
[
]
Jeff has a secret safe, hidden behind his bookcase. Here he stores his top-secret International Rescue documents. However, since he used to break into banks, Parker easily nicks the documents and is stopped by Her Ladyship...
Communications
[
]
At a touch of a button, the casually-dressed portraits are replaced by alternative images of the five Tracy sons in their International Rescue uniforms - the portraits doubling as communication screens, allowing direct audio/visual contact with each son; incoming calls being indicated by flashing ocular warning lights. To make or receive calls, an ornamental astray on Jeff's desk flips back to reveal a hidden microphone. From behind his desk Jeff can now supervise his organization's operations, monitoring reports from the rescue zone and arranging additional mission support.
Emergency Code (Contact Code 5)
[
]
Main article: Emergency Code Machine
Redesign
[
]
In the film Thunderbirds Are Go, the communication screens have been redesigned.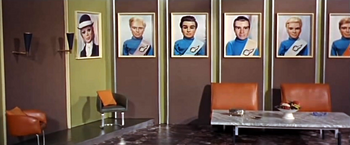 Early-Warning System
[
]
The portrait gallery also acts as an early-warning system, to alert Jeff of any approaching aircraft.
Tracy Lounge, after redecoration
[
]
Jeff Tracy's Desk, after redecoration
[
]
Trivia
[
]