Tracy Island is situated somewhere in a remote sector of the central Pacific Ocean, midway between Australia and South America. Its precise location is a closely-held secret. Tracy Island appears, to the outside world, as an almost-barren rock.
Base Construction
Following Jeff Tracy's purchase of the two islands, work quickly commenced to create an idyllic, self-contained luxury retreat - indicating to the casual visitor that Tracy Island was nothing more than a lavish millionaire's paradise, where the Tracy family could live a life of luxury oblivious to everyday reality. After construction of an airstrip leading from the northern edge of the island to the cliff-edge of a small plateau, well-placed to catch the dramatic Pacific sunsets, work started on a streamlined two-storey villa to Jeff's personal design. Built on an outcrop of rock overlooking a palm-fringed apron, which offered the perfect location for a kidney-shaped pool, the villa quickly took shape. Additional accommodation was also planned and constructed to provide guest-quarters and leisure facilities. This consists of the Round House, a cantilevered doughnut-shaped residence built above a sunken circular oriental garden and accessed by a path running to the east of the main house; and the Cliff House, a jutting two-storey construction built into a cleft of rock situated above the landward end of the island's runway and topped with a domed concrete canopy. Internal lift and moving-walkway systems link Cliff House and Tracy Villa, with a small hangar entrance built into the base of the cliff. A further internal travel-way connects to a converted ocean-side cave, which acts as a boathouse for the family's various seagoing craft.
Tracy Island Map
Transit Systems
Behind Tracy Island's placid tropical façade, the extent of International Rescue's conversion of the remote rocky outcrop is truly astonishing. From the lounge, the three main hangars can be reached by dedicated crew-access systems or via interlinked tunnels and other subterranean sections of the island. An inspection monorail has also been installed which, by means of a recently-added spur, connects Tracy Island with neighboring Mateo Island. Further transportation of materials and supplies is provided by a fleet of service vehicles, powered by rechargeable atomic batteries.
Thunderbirds Hangars
The locations of the hangars are as follows:
Thunderbird 1: Hidden below the swimming pool, beneath the main house.
Thunderbird 2: Hidden behind a large door that is disguised as a cliff-face, topped by the Cliff House. Upon reaching the runway, the palm trees that line either side will fall away, to accommodate Thunderbird 2's wingspan, so it can reach its hydraulic launch platform.
Thunderbird 3: Held in a silo under the Round House. (In the 2004 film, the Round House actually opens up, as opposed to the original Round House, which doesn't move at all.) There's also an emergency launching silo nearby, if the Round House silo should become compromised. (Never actually seen on screen at all, it might be usable by both Thunderbirds 1 and 3)
In addition, Thunderbird 4 has an emergency launch tube if Thunderbird 2 is unavailable.
Thunderbird 6 is kept inside the pods for Thunderbird 2 along with the Mole, the Firefly and quite a few other rescue vehicles.
Additional Facilities
In addition to the main hangars, other naturally-formed caverns beneath Tracy Island have been adapted to house a compact power plant and a complex of laboratories and construction bays, enabling Brains to carry out research and experimental development to create new rescue devices and vehicles.
Christmas on Tracy Island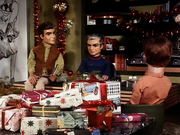 The Tracys entertain some special holiday guests, for Christmas - and snow falls, too!
Gallery
Cutaway Drawings
At least three cross-sections of Tracy Island exist. Two were illustrated by Graham Bleathman.
The first was published by City magazines, and featured in Thunderbirds Annual 1967; the second, in The International Rescue Book of Thunderbirds: FAB Cross-sections; and the third appeared in World of Thunderbirds. A fourth appears in the Haynes Thunderbirds Technical Manual.
Trivia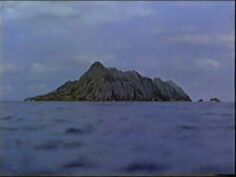 In Thunderbirds Are Go (film) and Thunderbird 6 (and, briefly, in the Season 2 TV episode Lord Parker's 'Oliday), the contours of Tracy Island changed.
One of the "Real World" live action establishing shots was reused from the Stingray episode Hostages of the Deep. The only problem is that there's a tiny "native" fishing boat visible in it, which hardly fits the Thunderbirds back-story.
End Of The Road