Jurassic World: Dominion Dominates Fandom Wikis - The Loop
Play Sound
The wiki acknowledges that the correct title is in fact Thunderbirds Are Go (minus the !), however to avoid confusion with the film we have retained the !, as erroneously reported by several news outlets before the official release.
Thunderbirds Are Go! is a remake of the original Thunderbirds television series. It started airing in 2015 to coincide with the series' 50th anniversary. The first episode, Ring of Fire Part 1 was broadcast in the UK by ITV 1, on Saturday 4th April 2015. The season 2 premiere, Earthbreaker, was broadcast on October 22, 2016 at 3:30pm on ITV. Season 3 started on March 31, 2018 at 8:00am on ITV with Chaos Part 1.
On May 17, 2019, David Graham (voice of Parker) confirmed that the series had wrapped and that no more episodes would be made.
Plot
[
]
The world of 2060 is a dangerous place. Technology may have advanced in leaps and bounds, but disasters can arise and lives put at risk. Thankfully there is hope. Operating from their hidden base on a remote island somewhere in the south Pacific, the five heroic Tracy Brothers and their remarkable, cutting-edge craft are ready and willing to help those in need; from the depths of the oceans to the furthest reaches of space.
Main Cast
[
]
Main Vehicles
[
]
Episode List
[
]
Main article: List Of Thunderbirds Are Go! Episodes
Timeline
[
]
Note: the following section is large. As such, it is hidden by default.
February 4, 2013: A little over a month after the passing of Gerry Anderson, ITV revealed that an unnamed Thunderbirds remake was in the works, and would be a co-production with Pukeko Pictures and WETA Workshop. 26 episodes in a half hour format were planned, with the intent to film a mixture of computer animation (CGI) and live-action sets. The relaunch would be broadcast on CITV in 2015.
May 22, 2013: ITV Studios confirmed that Vivid has acquired the license to produce a Thunderbirds Are Go! toyline for the Europe, Australia and New Zealand markets.
September 17, 2013: Shortly before the Mipcom (a Canadian entertainment market convention), a full page teaser was revealed, depicting both a work-in-progress title font and schematics for Thunderbird 1's front and nosecone section.
September 30, 2013: A list of voice actors was announced along with series head creators. This furthermore confirms months of rumours surrounding whether or not David Graham had agreed to reprise his role as Parker.
October 24, 2013: David Baddiel announced on Twitter he will be writing one episode.
Early 2014: Prototype schematics of the five Thunderbird craft, an International Rescue helmet and logo are leaked via photo sharing website Instagram. Most of the craft are identical to their classic counterparts, with slight 'modern' retouches.
February 9, 2014: Kayvan Novak appeared on Sunday Brunch, during which he explained his role on the series, and even gave a preview of the new sounding "Asian" Brains.
April 2014: HI-SECURE, a viral marketing website, reveals the first 'teaser trailer' for the series. It is exclusively shared through the Kidscreen website.
April 17, 2014: Weta Workshops host a tour at the Weta Cave Workshop, and in doing so answer numerous fan questions regarding the upcoming series. Confirmed information includes:

The series will be set at an unconfirmed point in the future.
Many of the original characters will return, along with new additions.
The Mole and the Firefly will appear.
Some stories will be updated/reworked versions of classic episodes.
Jeff Tracy is "On Tracy Island, waiting to be filmed".

June 12, 2014: ITV Studios announce their appearance at the Las Vegas Licensing Expo, with a new Thunderbirds Are Go! teaser poster released online.
June 16, 2014: The Hollywood Reporter confirms that Australia will be the second country to air the series, shortly after its UK premiere. It will broadcast on the Nine Network (in particular its subsidiary channel, GO!), where Thunderbirds has been in high rotation for decades.
June 17-19, 2014: The Licensing Expo is held, unveiling 3D turnarounds of the redesigned Thunderbird vehicles, giant Thunderbird 1 prop, accompanying poster of the craft soaring over Hollywood, and brief animated layouts of Tracy Island.

June 25, 2014: HI-SECURE release a second viral 'teaser trailer', featuring the construction of Thunderbird 1.
July 16, 2014: MIP Markets announce the world premiere screening of Thunderbirds Are Go! will take place at MIP Junior, held at Cannes between October 11 and 12, 2014
July 18, 2014: On BBC Radio's Chris Evans Breakfast Show, series writer David Baddiel revealed he would be attending his script's recording the following Monday.
July 24, 2014: The Thunderbird 1 prop is displayed once more, at WETA's booth (#3613) during San Diego Comic-Con. A select number of lucky fans who visited the booth were each given one of five random badges, displaying the redesigned Thunderbird crafts.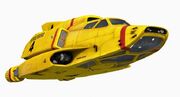 September 15, 2014: ITV Studios announce Thunderbirds: The Making Of, a documentary filmed on location in New Zealand to chronicle the series production, and celebrate the Thunderbirds legacy.
September 17, 2014: Issue #253 of the long-running pop culture magazine, SFX, went on sale. It included an article on the upcoming series, along with new renders of the Thunderbird crafts.
September 22, 2014: DigitalSpy releases an interview with Lady Penelope voice actor Rosamund Pike, revealing that most (if not all) of the main characters will be teenagers.
September 30, 2014: MIPBlog posts an interview with series executive producer Giles Ridge, who discusses information including:

Countries around the world where the series is popular.
The complete removal of violence (no guns, conflict, etc.).
Adjusting of story pace (from 44 minutes to 22).
Modernising Barry Gray's theme music (with a more "syncopated rhythm").
The MIP Juniour world premiere date and time (October 11 at 6pm), with broadcast scheduled for the second quarter of 2015.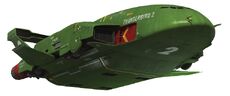 Late September 2014: thunderbirds.com, plus a new section on HI-SECURE.net, go live. Each page featured a countdown, the former suggesting a major reveal on December 18th, 2014.
October 2, 2014: A new promotional image of the series featuring all five brothers standing in front of Tracy Island is released by ITV (through License Global Magazine), ahead of their appearance at the Brand Licensing Europe expo between October 7-9, 2014.
October 8, 2014: ITV announce more licensing partners for the series including Simon & Schuster (activity, novelty, sticker, and storybooks in print and digital forms), DC Thompson (monthly magazine and official Annual), Kokomo (toiletry items), Danilo (calendars and greeting cards), and Posh Paws (bags and backpacks).
October 9-12, 2014: WETA appear at New York Comic-Con, along with the large Thunderbird 1 model and themed craft patches.
October 11, 2014: Shortly before it premieres at MIPcom, the series is purchased for pre-sale in Israel and the Middle East, where it will be broadcast by Noga's kids channel and MBC3 respectively.
October 11, 2014 at 6pm: The first episode of Thunderbirds Are Go premieres at MIPcom. Richard Taylor (co-owner of Pukeko Pictures and Weta Workshop) and Giles Ridge (ITV executive producer) attend.
October 16, 2014: Richard Taylor is briefly interviewed on Radio Live in New Zealand.
October 22, 2014: Another, longer radio interview with Tayor is broadcast in Auckland.
Late November, 2014: Issue 166 of Empire magazine is released, containing a double-page spread of the filming of Tracy Island, and interview with WETA.
December 18, 2014: The website goes live, with an animated picture of Thunderbird 5 in space. It prompts you for an email address for a newsletter; the email says "You are now one step closer to joining the International Rescue training programme. Watch this space... -International Rescue"
December 18, 2014: With the series still many months away from broadcast, ITV confirm the series will be continuing on with a second season, bringing the episode count up to 52.
December 24, 2014: Initial subscribers to the website are treated with the first 'official' 20 second teaser trailer, exactly one day before the rest of the world.
December 25, 2014: The teaser trailer is broadcast on ITV.
Early January, 2015: Series editor Anthony Cox releases a photo of his work desk on Twitter. Displayed on the surrounding wall are renders of the Tracy brothers, and a potential design for FAB 1.

Early January, 2015: The first headshots of Alan Tracy and Brains make their way onto the Internet anonymously, revealing Kayvan Novak wasn't joking when the producers wanted an "Asian" Brains, as the character's race has officially changed. The final version makes him look like Baxter Stockman from Eastman and Laird's Teenage Mutant Ninja Turtles.
January 11, 2015: A cropped photograph of Virgil Tracy's uniform, from the ITV Program Guide, appears online.
January 14, 2015: The Official Thunderbirds Program Guide, a 64 page companion product released by ITV, is offered for sale on auction site, eBay. Images from the Guide reveal both the costume and recreational designs for Scott, Virgil, John, Kayo, and Lady Penelope. Furthermore, the existence of Thunderbird Shadow is shown.

January 14, 2015: A CGI poster of the five Tracy brothers is leaked on social media.
January 15, 2015: The same poster is "officially" released by ITV.
January 20, 2015: Photographer Mikael Buck releases an image of a photo shoot, showing the first prototypes of the five Tracy brothers as action figures.
January 20, 2015: A few hours later, Toy Fair 2015 in London unveil the new electronic Tracy Island and Wrist Communicator toys, along with larger craft models and Scott Tracy role-play costume. Toy company Meccano announce plans for a range of Thunderbirds themed sets to coincide with the new series.
January 21, 2015: The eBay auction for a copy of The Official Thunderbirds Program Guide concludes, with a final price of US$142.50
January 23, 2015: A second copy of the Program Guide is auctioned online, and immediately sold for US$200.00
February 1, 2015: MaximoTV conduct a brief interview with Rosamund Pike at the 2015 SBIFF Virtuosos Award in California.
February 6, 2015: "Introducing The World": A brief video is officially released online, containing an extended version of the Tracy Island animated layouts (alongside Thunderbird 1's launch bay), along with new footage of various scenes and sights from around the planet.
February 10, 2015: Andrew Smith, CEO of Pukeko Pictures, is interviewed on Radio Adelaide.
February 10, 2015: Kayvan Novak is interviewed by Digital Spy, stating that the revamp "works beautifully", and further confirming that his take on Brains will be (in comparison to David Graham) "a little bit different".
February 13-18, 2015: ITV release a series of six video shorts on the official Thunderbirds Are Go YouTube page daily. Each video gave a brief overview of the five Tracy brothers, Kayo, and their crafts.
February 26, 2015: Pictures of Lady Penelope, Parker and Brains were released on the official Thunderbirds Are Go! Facebook page, including a look at FAB 1 and what seems to be Lady P's dog.
March 2, 2015: The BFI announce that the first episode, [Ring of Fire Part 1]], will premiere at their BFI Families event on March 31. The session will last 60 minutes, and feature both children's activities and a Q&A session with David Graham, Kayvan Novak, Thomas Brodie-Sangster, and Giles Ridge.
March 5, 2015: Thunderbirds HQ announce the release date of the series' first full trailer, slated for online release on Friday March 13th.
March 12, 2015: Series visual effects producer Sharon Lark is interviewed, where she mentions Jeff Tracy is reportedly "missing after a rescue mission went wrong years ago", and will not be around for a while.
March 13, 2015: The full trailer is posted officially online, 24 hours before its televised debut. In response, there was much rejoicing from the fandom.
March 20, 2015: Daily Mail confirm the series will premiere in Australia on Sunday April 12th 2015.
March 25, 2015: A program called Reggie and Thunderbirds: No Strings Attached will air at 8:00pm on ITV 2 on Thursday 2nd April where Reggie Yates will be discussing and talking to the cast of the new series.
March 26, 2015: The Thunderbirds HQ Facebook page release a puzzle. If solved correctly, it reveals the UK premier date as April 4th at 5PM on ITV.
March 29, 2015: Head writer Rob Hoegee further confirmed (among other things) in a reddit AMA that Jeff Tracy will not appear in at least the first two seasons.
March 30, 2015: GloTIME TV present a trio of articles, along with the first image of Grandma Tracy, Colonel Casey, MAX, and a menagerie of episode screenshots.
March 30, 2015: A portion of the series theme is played on BBC Radio 2, though due to rights issues, presenter Sara Cox (who stood in for Chris Evans) commentates over it.
April 2, 2015: No Strings Attached, a one-off documentary, aired on ITV2.
April 4, 2015 at 5pm: The series made its world premier on ITV1 with Ring of Fire Part 1 and Part 2.
April 4, 2016: The series is renewed for a third season one year after its original airing.
Cast and Crew
[
]
Vocal Cast
[
]
Production Crew
[
]
Gallery
[
]
Trivia
[
]
The first episode aired on the 4th of April 2015, exactly 24 years before or 15 years after Scott Tracy is born.
The new Thunderbirds.com website went live on December 19, 2014.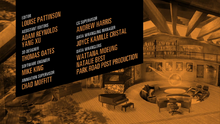 The credit reel for each episode contains concept art for the first season. Examples of these are:

An image of Thunderbird 2 leaving its hangar, but the aircraft has significantly smaller air-intakes, as per the classic series.
Thunderbird 3 has giant white "3" sideways, as per the classic series.
The Tracy lounge is shown, but the portraits of the Tracy brothers are, firstly in the order of John, Scott, Virgil, Alan, Gordon, and secondly are pictures of the puppet characters, and not of the new CGI characters, as per the classic series.
Publicity Stunt
[
]
To promote the series launch, a Thunderbird 4 replica was launched on the River Thames.
External Links
[
]