Jurassic World: Dominion Dominates Fandom Wikis - The Loop
Play Sound
To coincide with the new series, a Thunderbirds Are Go! Toy Range has been released. The primary line of figures and vehicles is headed by Vivid Imaginations, a company who first acquired the license to produce Thunderbirds toys in 1999.
Vivid Imaginations
[
]
Action Figures
[
]
All the Tracy Brothers and Kayo come with a helmet, Scott also comes with a jet pack, Virgil also comes with a flash light, Alan also comes with two gravity rockets, Gordon also comes with a re-breather, John also comes with a communications and logistics module and Kayo also comes with a wrist communicator. The Hood comes with a stun gadget (his remote) and a sea quake device. The Mechanic comes with a neuron driver and a ion hammer alongside a shoulder articulated- mounted grease gun. Brains has no attachments, and just comes with MAX.
Basic Size Vehicles
[
]
All of the following vehicles , with the exclusion of Thunderbird 4 come with sounds. Thunderbird 1 also comes with folding wings, Thunderbird 2 comes with landing legs, drop down module and folding wings, Thunderbird 3 also comes with grasping arms, Thunderbird 5 also comes with a auto- retracing space elevator, Thunderbird Shadow also comes with a drop down- mini Shadow Bike, Fab 1 comes with spinning wheels and retractable wings, and The Shadow Bike also comes with moving wheels and a sliding spoiler.
Supersize Vehicles
[
]
Thunderbird 2 & 4
Thunderbird 3
POD Assembly Set
Playsets
[
]
Tracy Island is compatible with Thunderbirds 1-4
Costumes
[
]
Scott Tracy International Rescue Uniform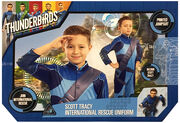 Takara Tommy
[
]
Tomica Die-Cast Models
[
]
Thunderbird 1 Model
Thunderbird 2 Model
Thunderbird 3 Model
Thunderbird 4 Model
Thunderbird 5 Model
Thunderbird S Model
The Mole
Fab 1
Thunderbirds Rescue Game
[
]
Exclusive Items
[
]
A limited edition PlayStation 4 was offered by Roadshow Entertainment in Australia as a prize during June-July 2015. Bizarrely, it featured a Thunderbird 2 skin, instead of the perhaps more appropriate Thunderbird 4.
Notes
[
]
Although initially slated for July 2015, the first wave of toys made their world debut at selected Australian retailers in late May.