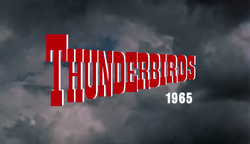 Thunderbirds 1965, later referred to as Thunderbirds: The Anniversary Episodes, was a project led by Filmed In Supermarionation director Stephen La Rivière. Its aim was to produce three new Thunderbirds episodes using original 1960s voice tracks, and retro filmmaking techniques.
It began seeking funding through Kickstarter[1] on July 9th 2015, and successfully obtained funding for all three planned episodes.
To celebrate the 55th anniversary of classic Thunderbirds' first broadcast in Japan, the anniversary episodes were repacked into a single film entitled Thunderbirds 55. Released in January 2022, this anniversary was chosen as 5 in Japanese is spoken as go, making the spoken title Thunderbirds GoGo.
Cast
[
]
Episodes
[
]
Crew
[
]
(Under construction)
Puppets
[
]
References
[
]