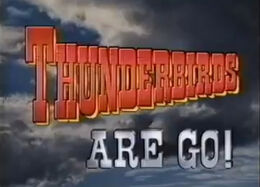 "Come join the Unbelievable Adventures with the Thunderbirds!"
— Fox Kids promo voiceover.
At the height of renewed interest with the various Supermarionation series, an attempt was made by Fox Kids to bring Thunderbirds back to a mainstream American audience. Beginning in 1994, the first modernization of Thunderbirds featured the combination of classic footage with new voice actors and musical cues.
Origins
[
]
The resurgence in Thunderbirds popularity during the early 1990's was certainly not lost on ITC America. Hoping to capture the same success as seen in England and Australia, a decision was made to purchase rights to the series (and the ability to do whatever they wish to the material), subsequently adapting it to the U.S. syndication market. This would have theoretically bolstered sales for the planned Tyco toy line, and serve as a lead-up to the ultimately abandoned 1999's film project.
Plot
[
]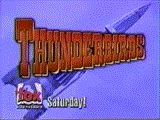 As opposed to the second modernizing attempt, Turbocharged Thunderbirds, the 'Fox Kids Series' was a straight-up retelling of selected classic episodes. However, the primary difference beyond casting different voice actors was the shortening of each episode down from 45 minutes to 20 minutes. This resulted in much more compact plots, though came at a price; the majority of both character and story development were reduced or cut entirely.
Episodes And VHS Releases
[
]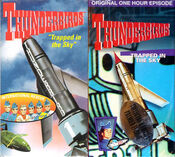 As of 2017, there is no surviving complete list of which episodes were used as source material. Some sources (including The Complete Book of Thunderbirds) detail the number being thirteen. This would make sense, as thirteen is usually the minimum for a television series to get off the ground, and twenty six for syndication.
However, it is debatable whether all thirteen were even broadcast. Due to abysmal ratings and shifting timeslots, only seven episodes are known to have been shown, four of which were briefly released on VHS. While it is possible some regions of the United States had the series rate stronger and continue broadcasting, this is highly unlikely.
The following stories, thanks to off-air fan recordings, definitely aired:
Edge of Impact

Sun Probe

Brink of Disaster
In addition, Canadian company Malofilm released several episodes, many of which were part of the Fox Kids line-up, on VHS around the same time in their original one hour format. These tapes provide a clue as to the remaining episodes:
Trapped in the Sky
Pit of Peril
The Uninvited: Alien Attack
Terror In New York City
Vocal Cast
[
]
Dena Mauer
G.A. King
Scott Brotherton
Michael Gibbons
Credits
[
]
Music Composed And Conducted By: Randall Crissman
ITC Executives In Charge Of Production: Guy J. Louthan, Michael S. Birnbaun
Offline Edit Facilities: CUT
Offline Editors: Mark Ruggio, David Gaudio
Online Editor: Jayme Wing
Audio Facilities: Sound Vendors
ADR Recorder: Ron McCoy
Sound Mixer: Larry Gonhue
An ITC Entertainment Inc. Group Production, In Association With Associated Images Inc. © 1994 All Rights Reserved.
Commercial
[
]
To recuperate the financial losses after its unexpected ratings nosedive, ITC (in association with Polygram Video) produced a commercial to promote the series for the home video market. With a duration of 62 seconds, the commercial briefly detailed the story of International Rescue, its top secret nature, and claiming to be a surefire hit with kids everywhere. Interestingly, all the characters retained their original voice actors with the addition of new music in the background, and included scenes from episodes not part of the broadcast lineup. This new music was never heard in the redub, and adds further weight to the theory that ITC initially planned to air the series with its original cast.
Decline And Cancellation
[
]
According to several sources (such as Broadcasting & Cable), ratings for the series began strong during its broadcast in July 1994, though later went into a spiraling descent before being pulled from syndication roughly a month later.
After much debating between fans online, the reason for this loss in ratings and overall failure was brought to a head in an open letter by ITC. The letter placed blame (at the time) primarily on FOX's decision to chop episodes down for a half-hour format, resulting in butchered storylines (plus it was believed that broadcasting Thunderbirds in its original hour-length format would prove impractical, given the perceived short attention span of the target audience).
Further problems came in the form of censorship. Many important scenes (featuring the characters smoking, drinking, bleeding, depictions of subservient minorities, and any major explosions) were deemed 'innapropriate' and ommited under FOX's broadcast standards. In an ironic twist, the vast majority of these edits would later be restored for Turbocharged Thunderbirds, which premiered on FOX, but at the 'graveyard' time-slot of 5:30am in most areas. By 1995, the series started broadcast on UPN's affiliates.
Notes
[
]
The 'Fox Kids Series' was the first 'major' broadcast of Thunderbirds in the United States, as part of the channel's Saturday morning cartoon lineup.
A potential reasoning behind the audio redub may be more surprising than initially believed. As reported by ITC, the alterations came about "...due to Michael Jackson owning the rights to ITCs music libraries", having purchased them in the 1980's. Whether the audio tracks could not be cleared for overseas broadcast due to regional ownership laws (a fate that did not affect the American broadcasts of 'Captain Scarlet' and Stingray however), or any possible residual rates for their usage unable to be met, remains a mystery.