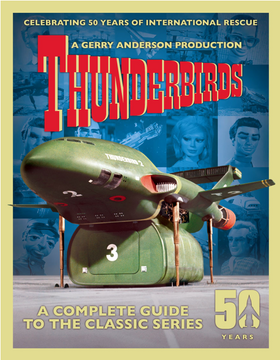 Thunderbirds – A Complete Guide to the Classic Series is a book about—as the name suggests—Thunderbirds.
It contains film and episode guides (encompassing the thirty-two episodes and the two feature films) in addition to interviews with the cast and crew as well as a few fans, including but not limited to Thunderbirds creator Gerry Anderson, Thunderbirds Are Go! screenwriter Peter Briggs, voice artists David Graham, Shane Rimmer, Jeremy Wilkin, and Matt Zimmerman, director David Lane, storyboard artist, designer, and model-maker Mike Trim, special effects assistant and model-maker Alan Shubrook, lighting cameraman Paddy Seale, composer Crispin Merrell (essentially a tribute to Barry Gray), Head of Merchandising Keith Shackleton, puppet-builder and fan Vaughan Herriott, model-maker and fan David Sisson, Anderson-inspired artists Graham Bleathman, Steve Kyte, and Andrew Skilleter.
Additionally, there are a number of features: Theo de Klerk looks at the science and plausibility of the five Thunderbirds craft, BAFTA-winning special effects director Mike Tucker talks about Derek Meddings' work, Chris Bentley discusses records, books, and TV commercials, and Alistair McGown presents two features: ten of the most sought-after items of 1960s merchandise, and the comics produced by Gerry Anderson's publishing company, such as TV Century 21 and Lady Penelope.
Additional Info