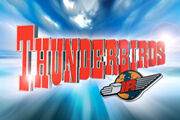 Thunderbirds: IR was to be a new series of Thunderbirds, produced in Hypermarionation. Mixed with CGI elements, the show would have had its characters animated using various styles of puppetry, the show would have also coincided with the original series's 40th anniversary but as of 2005 however, it was cancelled. The decision to cancel might have been partly due to the criticism the trailer got.
Filming
Asylum were commissioned to make a pilot by Canton Television for an updated version of the classic Thunderbirds series. Kate McConnell from Asylum designed the characters costumes and vehicles that were used in the pilot. The characters were made in silicone and had animatronic heads and hands. Rigs were built to allow the puppets to walk when connected to the puppeteers, all the models in the pilot were built in house at Asylum, including the oil tanker, lighthouse and Thunderbird 1.

Trailer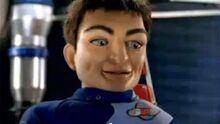 In 2005 a QuickTime trailer emerged of the Thunderbirds reboot. The trailer started with clips of the classic TV show. Then it moved on to Thunderbird 1 saving a light house keeper from falling to his death. It finished with Scott performing action scenes and throwing out dry lines.
("Look, no strings"; "Scott, you've got 10 seconds" - "I only need 9".)
Craft Designs
Thunderbird 1
These shots of the miniature from the trailer show how Thunderbird 1 would have looked.
Thunderbird 2
This model shows how the design of Thunderbird 2 would have looked, the model also included an Illuminating Cockpit, Navigational beacons and Spinning Turbines air intakes housed within the miniature.
Thunderbird 3
Thunderbird 4
Thunderbird 5
Behind the Scenes
Development
The show was shelved until further notice.
In August 2008 The Sun reported that Gerry Anderson was planning to make a CGI Thunderbirds (unknown if it's still called IR) and was in talks with ITV (who own the rights to Thunderbirds). But when Anderson expressed his desire to be involved with the project ITV stopped talks.


Eleven months later ITV would still not release the rights...
In 2015, ITV released a successful CGI remake: Thunderbirds Are Go!