"My, this is a deserted area. One just wouldn't know where one was, would one?"
— "Gayle Williams"
"The Man From MI.5" is the seventeenth episode of Thunderbirds season 1, first broadcast on the 20th of January 1966.
Plot
The British government asks for International Rescue's help in locating the missing blueprints for an atomic weapon. Whilst tracking the culprits, IR agent Lady Penelope (posing as model Gayle Williams) is kidnapped and held aboard a bomb-rigged boat. Scott and Gordon have very little time to locate and rescue her, and steal back the plans...before the bomb explodes, and the villains escape...
Storyline
Main article: The Man From MI.5/Storyline
Transcript
Main article: The Man From MI.5/Transcript
Cast
Regular Characters
Guest Characters
Cameo Roles
Crowd Scenes
International Rescue Equipment Used
Non-International Rescue Equipment Used
Locations
Trivia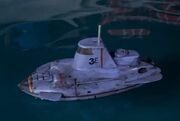 This episode features the first full Thunderbird 4 launch sequence, shown from inside Pod 4. (Prior to this, TB4 had only been seen emerging down the ramp outside the pod door.)
It's also the only occasion wherein Thunderbird 2 gently rests Pod 4 upon the surface of the water (rather than dropping it in), and then rises clear with its lifting jets.
The backdrop used for the harbour scenes also appears in the opening scene of The Duchess Assignment, in the Captain Scarlet and the Mysterons episode Model Spy, and in the Joe 90 episode The Race.
When broadcast in the half-hour "cliffhanger" format, Part One concluded with Carl taking off in his boat, with Penelope as his prisoner, from FAB 2.
Goofs
Main article: The Man From MI.5/Goofs
Foreign Titles
French: L'homme du M I5
German: Der Mann vom M.I.5
Spanish: El Hombre del MI.5; El agente MI5 (DVD)
Italian: S.O.S. Servizi Segreti Britannici
Dutch: De geheime agent (TV); De man van MI. 5 (VHS, DVD)
Portuguese: O Homem do M.I.5
Japanese: 情報員MI. 5