First Edition
Edit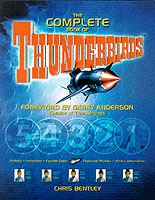 Author: Chris Bentley
Copyright: 1965 and 1999 Carlton International Media Limited.
Dedicated to: Everyone at A.P. Films / Century 21. Especially Reg Hill, Christine Glanville, and Derek Meddings.
Format: paperback
Invaluable assistance provided by: Gerry Anderson, Mary Anderson, Stephen Brown, Terry Curtis, Derek Dorking, Martin Gainsford, Adrian Hinchliffe, David Lane, Lesley Levene, Jon Lucas and the designers at AdVantage, Jenny Olivier, Andrew Pixley, Russell Porter, Robin Quinn, David Ross, Ralph Titterton, Ken Turner, Nick Williams, Keith Wilson, and Joan Bentley (Chris' mother).
Original retail price: £12.99 (UK)
Production: Garry Lewis
Published by: Carlton Books Limited 2000, 20 Mortimer Street, London, W1N 7RD.
Page count: 128 in full colour.
Contents: A foreword by Gerry Anderson, Introduction, 5 Chapters and an index.
Chapter 1: "The Making of Thunderbirds" covers before Thunderbirds, Pre-Production, The Voice Artists, The Half-Hour Episodes, Seasons One, Two and the feature films.
Chapter 2: "The World of Thunderbirds" has sections on Dateline 2065, International Rescue, The Vehicles and the Characters.
Chapter 3: "Screen Adventures", A detailed look at all the episodes and films.
Chapter 4: "Spin-off Adventures", A section on merchandise
Chapter 5: "Beyond Thunderbirds". A section on all the spin-offs, Thunderbirds 2086, The stage show, Turbocharged etc.
Additional info: on page 4 is a photograph of Gerry Anderson. Taken against a space backdrop, behind Anderson is Thunderbird 2, and in the background is a fiery explosion. In regards to this picture, Chris Bentley, David Finchett, The Magic Camera Company, and Richard Gregory received credit for their work - design and art direction; photography; digital composition; and the TB2 model respectively.
40th Anniversary Edition
Edit
This is basically a hardback reprint of the 2000 Edition, published to celebrate the 40th anniversary of the making of Thunderbirds.
Original Retail Price: (?)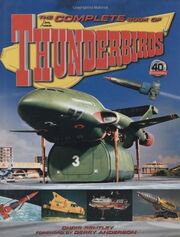 The Complete Book of Classic Thunderbirds
Edit
The word Classic was added to the title of this 2005 reprint edition so that people wouldn't think it was about the 2004 movie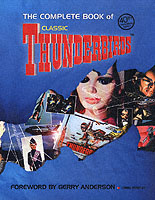 Author: Bentley, Chris
Publisher: Carlton Books Ltd
ISBN: 1844424545 / 9781844424542
Format: Hardback
Pagination: 128 pages, 150 colour & b/w photos
Dimensions: 276 x 216 mm
Country of Pub.: United Kingdom
Pub Date: 05/09/2005
Availability: Out of print
Price: £16.99
"Everything that the Thunderbirds fan needs to know about the cult series from character profiles and a comprehensive episode guide to fascinating behind-the-scenes information about the making of the models."
Despite priding itself as having all that one needs to know about the Thunderbirds franchise, The Complete Book Of Thunderbirds has made a lot of misleading mistakes over the years.
First Edition
Edit
Community content is available under
CC-BY-SA
unless otherwise noted.