The swimming pool at Tracy Island is the perfect place to be on a hot summer day - which is quite regularly!
It also happens to be the perfect disguise for Thunderbird 1's top-secret launch bay: as the pool's water basin slides to one side, the hidden launch aperture is revealed, open to the sky above - ready to launch TB1 on its latest rescue mission; and to receive the hypersonic rocket plane, once it returns to base, for a safe landing...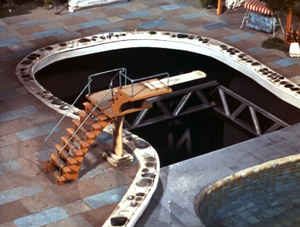 Leisure Pool
As well as acting as a hangar door for TB1's comings-and-goings, the pool and its environs are a popular recreational venue for the extended Tracy household.
As might be expected, aquanaut and "family goldfish" Gordon's a frequent, enthusiastic devotee - and is not above playfully lobbing an occasional beach ball at others who might be lounging poolside (eg Thunderbirds Are Go). He's often joined by Tin-Tin. Alan also enjoys being in the water - although, on at least one occasion, he ought to look before he leaps (!)...
Meanwhile, out in space - aboard Thunderbird 5 - a wistful John "can't wait to dive into that pool," as he eagerly anticipates his next monthly leave at home...
Curiously, neither Scott nor Virgil are seen directly partaking of the pool - although Scott is seen in full diving-gear when he assists Gordon in saving Brains from an underwater trap (Desperate Intruder).