"A thoroughly excellent vintage, Parker. Excellent, I say..."
Stevens is a friend of Parker and, like him, is a chauffeur. He works for shipping-line head Lord Worden.
Voiced by John Tate, Stevens appears in Danger At Ocean Deep.
A Toast, to Her Ladyship!
While Lady Penelope, Lord Worden and other dignitaries are on the VIP platform at Clydeside Dockyard, where Penelope is sponsoring the launch of Ocean Pioneer II, Stevens and Parker are having a little party of their own...
Together they sat in FAB 1, raising their glasses - filled with the Champagne intended for the launching - in toast after toast...and getting more than "a few sheets to the wind," in the process. Parker had switched the bottles - resulting in Ocean Pioneer II being sent on her way after being christened with a bottle of pure tonic water!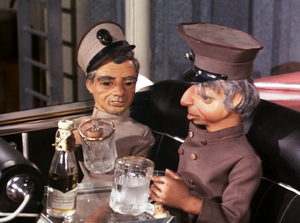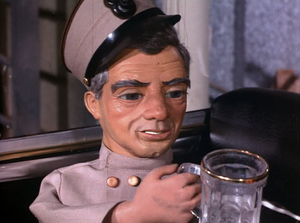 Trivia