"Starcrusher" is the tenth episode of Thunderbirds 2086, and eighteenth produced overall. The episode first aired in Japan on September 11, 1982.
Plot
General Starcrusher's spies have infiltrated the top secret X-15 project hidden behind Niagara Falls, with intent to lure IRO to the scene and steal their fabulous Thunderbird craft.
Gallery
Quotes
"I got you, babe."
Kallan James can't resist flirting with Dylan Beyda when the latter is in mortal danger. Plus making references to 60's pop songs.
IRO Equipment Used
Trivia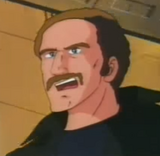 After continuously disastrous ratings, Starcrusher was the final episode to air in Japan.
Thunderbird 2's laser cannon is destroyed.
Anderson Stock Library
Continuing a trend from the previous episode, whenever Starcrusher speaks, a variation of the Mysteron theme from Captain Scarlet and the Mysterons can be heard.
During Starcrusher's first transmission, animated title footage from Captain Scarlet vs. the Mysterons and Revenge of the Mysterons from Mars was inserted. Starcrusher even refers to himself in third person, and begins his speech almost word-for-word to the infamous "This is the voice of the Mysterons..." announcement.
Foreign Titles
Japanese: 高速電流 - ナイアガラでバトル!("Rapid Current - Battle at Niagara!")