Skythrust is a supersonic airliner. Like the Fireflash airliners, Skythrust has a freight deck for cars and other various cargoes at the rear end of the aircraft.
It is considered one of safest airliners in the world due to the 'Hackenbacker' fuel pod. How does this 'Hackenbacker' fuel pod make it safe? Well, if Skythrust needs to make an emergency landing, the fuel pod can be ejected upon landing and a fuel flow regulator on-board Skythrust stops the fuel from going to the feed pipes. However, low fuel capacity engines means Skythrust could be brought down to land if the fuel pod is ejected in mid-air. After the 'Hackenbacker' fuel pod is ejected, it can be self-destructed at a high, safe altitude or taken down to the Earth, in a safe descent.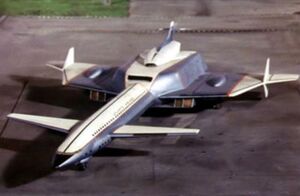 Technical Data
Accommodations: 1 bar and restaurant, 1 conference suite on lower deck with service rooms that host fashions shows, 1 coffee shop and 1 duty free shop in the observation deck just below the fuel pod
Length: 450 feet
Manufacturer: New World Aircraft Corporation
Number Produced: 120 total; 40 to Atlantic Airlines, 40 to World Airlines, and 40 to Air Terrainean
Top Speed: Mach 2.5 (about 1,903 mph)
Weight: 498 tons
Wingspan: 275 feet
Fuel Capacity: more than 5,000 gallons
Ceiling: 40,000 feet
Undercart
Cockpit
Crew
The plane was piloted by Captain Ashton and had a unnamed Co-pilot
Cargo Bay
The Skythrust has a massive cargo bay at the rear of the plane, the door folds down to create a ramp, allowing for easy vehicle entry.
Plane Interior
The plane also has a function room, larger enough to hold a stage.
The Secret Hackenbacker Device
Part of the secret design of the Skythrust, is a rear-mounted electable fuel pod that can fly away from the aircraft, and then detonated, before the plane crash lands in an emergency.
History
At the start of Alias Mr. Hackenbacker, an airliner (Flight D-103) is coming in to London Airport for an emergency landing, due to a landing gear failure. London Airport evacuates the area and sends in ambulances and Crash Tenders in an attempt to save the lives of those on board, but the aircraft catches fire as it crashes and the craft violently explodes due to the fuel tank catching fire. Sometime after, Brains, operating under the name Hiram Hackenbacker, developes a device that could improve its safety.
However, instead of giving it a simple refit, Brains completely redesigns the airliner. On board the new aircraft, named Skythrust, on its maiden flight from London is Lady Penelope and a French fashion designer, François Lemaire, who is ready to reveal a new clothes fabric that can make dresses fit into spaces as small as cigarette boxes. However, the plane is hijacked by Francois's assistant, Madeline, and Mason, the steward, who demand the pilot, Captain Ashton, and his co-pilot, to fly to the Sahara Desert in Africa and land there. Lady Penelope calls International Rescue and orders Alan and Virgil following Skythrust in Thunderbird 2 to fire a non-explosive missile at the planes landing gear which causes a fault in the landing gear. Realising that there is no airport in Africa that is suitable enough for Skythrust to crash-land, the hijackers order the pilots to fly back to London Airport and crash-land there. With all the Crash Tenders in position, Skythrust approaches the airport and just before crashing, its new device is revealed to be a ejectable fuel tank, thus allowing the aircraft to crash-land without bursting into flame, saving everyone on board.
Brains had saved the day.
Cross-section (Cutaway Drawing)
As far as is known, only one cutaway drawing of the Skythrust exists. Illustrated by Graham Bleathman, it featured in a Redan comic that was published in the 2000s.
Main article: History of the Cutaway Drawings (Classic Thunderbirds)
Trivia
Skythrust later makes a background appearance at Slaton Air Base in the "Captain Scarlet and the Mysterons" episode Treble Cross.