Sir Harry is the owner of an Australian road-construction concern. He's also an acquaintance of Lady Penelope.
Voiced by John Tate, Sir Harry appears in Atlantic Inferno.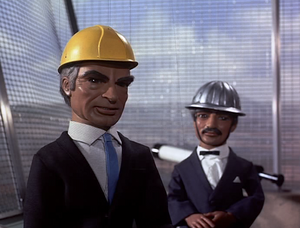 Blowing Up A Mountain...
Having won the contract for his company to build a highway through an Australian mountain range, Sir Harry invites Lady Penelope, as his honored guest, to blow the first charges at the start the project. She gracefully declines, however, his invitation to join in the celebration party at the construction base's canteen.
He offers instead to drive her back down to the road in the company jeep, from which they can see the road work getting underway in earnest. As Parker waits nearby with FAB 1, Sir Harry bids her farewell: "Next time, you'll have to stop for a few beers!".
Puppet
The Sir Harry puppet appeared in the following episodes (listed in production order):
It was also seen twice in the movie Thunderbirds Are Go: first as one of the members of the SE Board during the meeting at the Space Exploration Center, and again later, as reporter number 13 at the Press Conference (Zero-X). In Thunderbird 6 it was seen briefly at the Indian Bazaar.