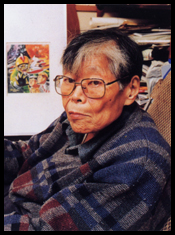 Shigeru Komatsuzaki (February 14, 1915 - December 7, 2001) was born in Tokyo and is one of the most prolific figures in science fiction in Japan from the 50's all the way through till his death in 2001.
His first published work, "Shirogitsune Kidan" ("Mystery of the White Fox") was created while he was in his teens before he was recruited to draw mechanical hardware for a journal called 'Kikaika' during the Second World War.
After the war he wrote and illustrated a number of books aimed at young adult readers like "Daini no Sekai" ("Second World") and Kaitei Ōkoku ("Undersea Kingdom") while he also worked as an art/production designer on several Japanese films like Chikyū Bōeigun ("The Mysterians") and Uchū Daisensō ("Battle in Outer Space") to name a few.
While around him the comics industry in Japan was starting to take off, Komatsuzaki chose to stick with creating large illustrations for various model companies that created military kits, Gundams and most notably for Thunderbirds and other Gerry Anderson properties like Captain Scarlet and the Mysterons, Joe 90 and UFO.
His last published illustrative work was for a tie in CD for Metal Gear Solid: Sons of Liberty and unfortunately in 1995 the last of his creative archives were destroyed in a fire that destroyed his home. Komatsuzaki passed away on the 7th of December, 2001 and is highly regarded by most Japanese science fiction and comic book writers as one of the most influential men in the genre.
Gallery