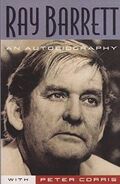 Raymond Charles "Ray" Barrett (2 May 1927 – 8 September 2009) was an Australian actor and voice actor.
Born in Brisbane, Queensland, he was educated at Brisbane State High School.
Barrett first appeared on radio in Brisbane. In 1957, he moved to England. Due to his "tough looks", he was given character and "tough guy" roles from an unusually young age.
He provided the voice of several characters in Gerry Anderson-produced "Supermarionation" series of the 1960s, including Commander Shore and Titan in Stingray (1964–65).
For Thunderbirds, he regularly voiced both space monitor John Tracy and International Rescue's recurring nemesis, the Hood; as well as a host of other guest characters, encompassing good guys, bad guys, various eccentrics, military types, secret agents - even actors! (Martian Invasion's character Ray was named after him.)
And he cameoed the only line of dialogue for John's brother, Alan, in the series' first episode, Trapped in the Sky.
Perhaps his most memorable performance (Aside of John Tracy and The Hood), was as Deborah, Duchess of Royston in The Duchess Assignment.
He later voiced John and the Hood in the movie Thunderbirds Are Go (but not in Thunderbird 6). And for Thunderbirds 1965, he's again heard as John and the Hood in The Abominable Snowman (originally F.A.B.), and as the shady chauffeur Dawkins, in The Stately Homes Robberies (both versions).
In 2005, he received an Australian Film Institute Longford Life Achievement Award.
Characters Voiced by Ray Barrett
(Click an image to visit character page.)
External Links