"Thunderbird 2 from Zero X. All in escape unit, except me. I can do better than the automatic pilot in holding this craft steady. I'll go back into the escape unit either when it's fixed, or when we're at zero feet..."
Captain Paul Travers was the Zero X captain, seen in the feature film Thunderbirds Are Go.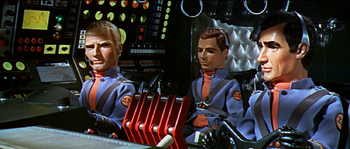 Trivia
Although the rescue left him badly shaken, (Brad Newman even reported that he "barely made it") Paul was still able to attend Alan's party at The Swinging Star later that day.