"Sorry I'm late, folks. I had to milk the cows before I took off."
— Scott Tracy
"Operation Crash-Dive" is the twelfth episode of Thunderbirds season 1, first broadcast on 16th December 1965.
Two giant Fireflash airliners have inexplicably crashed into the Atlantic Ocean. International Rescue subsequently offers its expertise to assist in solving the mystery. As Fireflash 5 takes off - with Scott Tracy and Captain Hanson at the controls (along with some specialized IR hardware) - Virgil and Gordon Tracy follow them, in Thunderbird 2. From aboard Thunderbird 5, Alan Tracy tracks them and coordinates communications. But then, out over the Atlantic, the same disabling malfunction strikes again; and Scott and Hanson are left with no means whatever of controlling the massive aircraft. Gordon manages to board Fireflash - now plummeting towards the sea - and finds critical machinery has been sabotaged...along with the saboteur who did it! With a crash-landing only moments away, Gordon is able to affect repairs that enable the jetliner to pull out of its death-dive, and later on to return to base safely.
Storyline
Edit
Main article: Operation Crash-Dive/Storyline
Transcript
Edit
Main article: Operation Crash-Dive/Transcript
Regular Characters
Edit
Guest Characters
Edit
Cameo Roles
Edit
Crowd Scenes
Edit
International Rescue Equipment Used
Edit
Non-International Rescue Equipment Used
Edit
Locations
Edit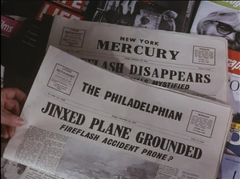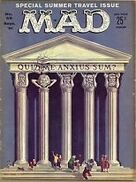 The original title for this episode was The Test Crew.
The saboteur's pick-up aircraft would later be repainted and reused as the fake Thunderbird 2 in The Impostors.
The music played during the scenes at the Irish farm was originally composed for the Four Feather Falls episode "A Little Bit of Luck".
This episode marks the second, and final, major appearance of the Fireflash airliners in the series.
This episode also reunites Scott and Captain Hanson, who first "met" via radio-contact in Trapped in the Sky.
The International Air Minister reveals that the Fireflash airliners cost £5 million.
Several guns from Stingray are visible on the wall in the Tracy Villa shooting range..
A pile of newspapers and magazines shows that The Daily Telegraph, Daily News, Life International, The British Journal of Photography, Films and Filming and Mad are still being published in 2065.
The particular issue of Mad that is seen is readily identifiable as the "Special Summer Travel Issue" from 1961.
Main article: Operation Crash-Dive/Goofs
Foreign Titles
Edit
French: Le passager clandestin
German: Operation Fireflash
Spanish: Operación Impacto Profundo; Operación aterrizaje forzoso (DVD)
Italian: May Day! May Day!
Dutch: Operatie "noodlanding" (TV 1966), Operatie duikvlucht (TV 1991), Operatie Noodlanding (VHS, DVD)
Japanese: 原子力機ファイアーフラッシュ号の危機