Nurse Nimmo is a member of the medical staff, along with Doctor Lang and Doctor Pringle, at Coralville Children's Hospital.
She appears in the Christmas-themed episode Give or Take a Million, and she was voiced by Sylvia Anderson.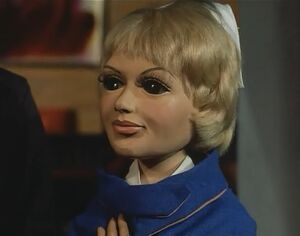 Biography
Nurse Nimmo is invited to open the container from the test rocket, when it lands successfully in the Coralville Children's Hospital car park. Choosing one of the wrapped packages inside at random, she unwraps it - and finds a china toy horse, undamaged after its high-flying journey.
Christmas Day
On Christmas Day, the hospital staff gathers outside, eagerly awaiting another, very special, rocket...
The Christmas Rocket Arrives
...and, here it comes! They all observe the spectacular sight of the approaching Christmas rocket - as it passes overhead, it deftly drops its precious cargo to another safe landing in the hospital car park. But when Nurse Nimmo opens this container, she and the staff are shocked to discover more than just Christmas presents inside - there's also two men, both unconscious and, inexplicably, dressed as Santa!
These holiday stowaways are, in fact, bank robbers: Scobie and Straker, trying to escape from Harman's Department Store after a failed attempt to steal the gold bars from the next-door Second National Bank...
Party Time
The reward money for the capture of the crooks will go to the hospital. So it's party time, and a very Merry Christmas for everyone - except the crooks...
Gallery
Trivia