"Nightmare" is the sixteenth episode of Thunderbirds 2086, and eleventh produced overall. The episode first aired in Japan on July 10, 1982.
Plot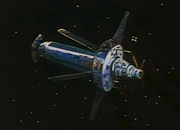 General Starcrusher assigns his agent to infiltrate the Nitroid Space Colony and transform its crew into an unstoppable cyborg army. The Colony (along with the entire Federation itself) can only be saved by the unlikeliest of heroes: Danny Beyda, Dylan's kid brother.
Transcript
Main article: Nightmare/Transcript
Quotes
(To Be Added)
IRO Equipment Used
Trivia
First Appearance: Danny Beyda.
When Jesse Rigel tries to stop him from leaving for the colony, Dylan uses some persuasive arguments. In the Japanese dub however, he knocks him out with a single punch to the gut.
Anderson Stock Library
As seen in previous episodes, not only does the Mysteron theme play when General Starcrusher speaks, but the animated title footage from Captain Scarlet vs. the Mysterons and Revenge of the Mysterons from Mars makes a return.
Gallery
Foreign Name
Japanese: スペース病院のパズル ("Puzzle of the Space Hospital")