"Now look, Nosey...I'd really love to do you a favour, just for old times' sake. But I run a big agency here..."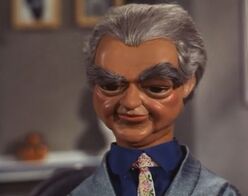 Maxie is the owner of International Artistes Management Ltd, a theatrical talent-booking agency. He's also an old fiend of Parker, amongst others...
Voiced by John Tate, Maxie appears in The Cham-Cham.
Biography
Maxie Takes A Meeting...
Parker, who - it so happens - has "excellent connections in the theatre world," pays a call on his old friend Maxie at the latter's office. He wants him to hire one Wanda Lamour to perform at the Paradise Peaks Hotel - "She's by way of being a very provocative torch singer," he says. Maxie protests: "I can't send out a singer I've never even heard of..." (not surprising, since she's really Lady Penelope in disguise!)...
...and Nosey Does A Deal
"Now that is a pity," Parker sighs. "A real pity." He relates that he'd just been over to the States recently, and had conversation with someone named "Punchy" Patterson...
Maxie's whole demeanour changes. He nervously asks whether "Punchy" - who, it seems, comes by that nickname honestly - was still "inside...you didn't tell him I've over this side now, did you?"
Parker makes an offer: he'll keep quiet, in exchange for Wanda Lamour going to Paradise Peaks. The deal is struck.
"All right, Nosey," says the much-relieved Maxie. "So...what's this Wanda Lamour like? Is she blonde or brunette?..."
Trivia