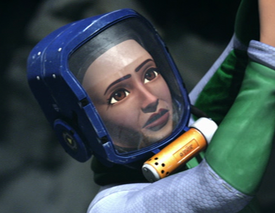 Marion Van Arkel is a character from Crosscut and Chain Reaction. She comes from a family who used to own a uranium mine somewhere in Southern Africa.
In Crosscut, Marion had opened up the mine to take as much uranium as she could retrieve to sell to an anonymous buyer, but was discovered by Scott Tracy who had originally checked out the mine with the intention of sealing it shut. After overloading the main lift - causing it to break and become unusable - she helped Scott locate a rear exit to the mine for them to escape before they suffered radiation poisoning; however, it was Virgil Tracy who really came to their rescue in the end. Also, they sealed off the old mine.
Disappointed that she could not sell any of the uranium and thrown into financial ruin, Scott recommended her to Colonel Casey of the Global Defence Force who thought she has a use for Marion's expertise, which indeed she did as sometime much later, Marion had gone through the ranks to the role as a lieutenant.
In Chain Reaction, inside the Power Plant, whilst Scott was rescuing Cameron, Marion confronted Fuse trying to convince him not to steal the uranium; Scott even tried to tell Marion that Fuse is for the GDF to deal with, only to remind himself that she was now part of the GDF.
When the Power Plant went into lock-down, Marion was angry with Scott for rescuing Fuse, but Scott insisted that even if Fuse was a bad guy, he still needed help. Then Marion, Scott and Cameron found a transporter vehicle, which was originally mistaken for "the Shackleton Beast", and went to the very core of the reactor to get out via a steel door. However, when Virgil came to get them out via the Mole Pod, it turned out that Fuse helped them out as he listened to their conversation over the radio, and even ditched the stolen uranium. Marion sympathetically told Scott that him saving Fuse also saved their lives.
Marion was voiced by Teresa Gallagher.