Lilian is Lady Penelope's cook, and lives at Creighton-Ward Manor in Foxley Heath.
She and Parker (Her Ladyship's butler/chauffeur) are friendly rivals, of sorts; he invariably calls her Lil, as they spar back and forth in the Manor's kitchen.
Beneath that gruff exterior, it appears Parker harbors a genuine fondness for her. In The Cham-Cham, he fancies "taking cook out for a punt," on his afternoon off (perhaps the way to a man's heart truly is through his stomach!).
Lilian appears in Vault of Death and Thunderbirds Are Go (film). She also makes a cameo appearance in the Thunderbirds 1965 episode The Stately Homes Robberies (where Lady Penelope refers to her by her proper name!).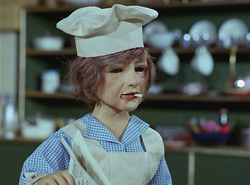 Thunderbirds Are Go
Lillian's appearance in the movie Thunderbirds Are Go is not widely known, because she is almost completely hidden from view. It is clear however, that when the makers decided to put the entire International Rescue team in the final sequence at The Swinging Star (except for John, who was on duty), they definitely did not forget Lillian.
Trivia