"You know, I've often felt I'd like to do something exciting, like being a secret agent."
Lady Penelope Creighton-Ward is the daring London Agent of International Rescue, as well as a renowned aristocrat, socialite, and model.
Early Life and Education
[
]
Lady Penelope was born on Christmas Eve to Lord Hugh and Lady Amelia Creighton-Ward. She spent her initial years with her parents at the Creighton-Ward Mansion. She moved to India along with her parents, her father having been posted there by the British government to oversee the production of tea. Penelope herself, however, suffered in the harsh climate, and was sent home on her own, being placed in the charge of a governess by the name of Miss Pemberton, whom she was particularly fond of.
Her schooling began at the illustrious Roedean School, an independent day and boarding school for girls aged 11 to 18. There she excelled academically, made firm, lifelong friendships, and was appointed head girl in her final year.
Having completed her education at Roedean, she attended finishing school in Switzerland. There she became an accomplished skier, but more impressively also developed her knowledge of French, German and Italian, speaking all three flawlessly.
Career Before International Rescue
[
]
Lady Penelope decided, following her education, that she did not want to spend her life as a socialite, attending the functions that members of the aristocracy are traditionally expected to attend. Instead, capitalising on her linguistic skills, she entered the field of espionage, quickly progressing to become chief operative of the Federal Agents Bureau. It was whilst in this position that she met Jeff Tracy. Jeff went on to offer her a position within International Rescue, which Penelope accepted immediately.
Career in International Rescue
[
]
Lady Penelope became a key operative for International Rescue, playing a vital role in many a rescue mission. Her particular skills lie in subterfuge, regularly fooling unwitting villains and bystanders alike into revealing to her key information. However, she can hold her own when needed, being a skilled user of hand-held guns.
Despite these skills, given that she places herself in very direct danger, Lady Penelope has previously been captured and threatened by criminals and required rescuing herself by her colleagues. She has also been proven to be an extremely poor driver, as demonstrated in "Vault Of Death," when she decides to drive herself to the Bank of England to rescue a man trapped in the vault and in danger of being suffocated, and Parker is driving incredibly slowly (so as to avoid his old cellmate, Light-Fingered Fred, who has recently broken out of prison). Upon taking over, she drives extremely erratically, almost making Parker vomit. However, in "Brink of Disaster," she is shown to be highly confident behind the wheel, shooting and presumably killing the crook with machine gun using FAB 1's rear armaments.
Expressions
[
]
Outfits
[
]
Main article: Lady Penelope Creighton-Ward/Outfits
Stately Home
[
]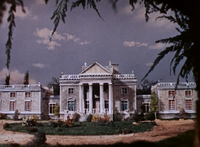 Main article: Creighton-Ward Manor
Vehicles
[
]
Pink Rolls-Royce
[
]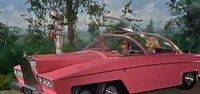 Main article: FAB 1
Yacht
[
]
Main article: FAB 2
Race Horse/Private Jet
[
]
Main article: FAB 3
Communication Devices
[
]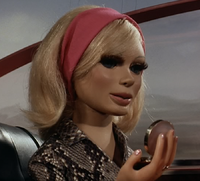 Missions and Adventures
[
]
Lady Penelope appears in eighteen TV episodes:
Trapped in the Sky, The Perils of Penelope, Day of Disaster, 30 Minutes After Noon, Vault Of Death, The Mighty Atom, The Impostors, The Man From MI.5, Danger At Ocean Deep, The Duchess Assignment, Brink of Disaster, The Cham-Cham, Security Hazard, Atlantic Inferno, Path Of Destruction, Alias Mr. Hackenbacker, Lord Parker's 'Oliday and Give or Take a Million.
Main article: Lady Penelope Creighton-Ward/Missions and Adventures
Film Appearances
[
]
Lady Penelope appears in both films, Thunderbirds are Go and Thunderbird 6.
She also appears in all 3 Thunderbirds 1965 episodes, The Abominable Snowman,Introducing Thunderbirds and The Stately Homes Robberies
Trivia
[
]
The Lady Penelope character was first introduced to the world in issue 1 of the TV Century 21 magazine on 23 January 1965, more than eight months before her UK television debut.
Penelope's facial features are based on those of Sylvia Anderson. She was sculpted by Mary Turner, who also created John Tracy, Gordon Tracy and Brains.
Penelope is often nicknamed "Penny" by Jeff Tracy.
Lady Penelope, along with Scott, FAB 1, Parker and Brains appeared in British comedian Peter Kay's "Animated All Star Band" for BBC Children In Need 2009.

Puppeteer Mary Turner kept a puppet of Lady Penelope as well as Captain Scarlet, Rhapsody Angel and Colonel White from Captain Scarlet and the Mysterons and years later she brought the puppets to the Antiques Roadshow at Eltham Palace which was broadcasted on January 6th, 2019. Antiques expect, Hilary Kay estimated Lady Penelope's puppet to be worth about a £38,000 value if it was to be auctioned.
Quotes
[
]