In Atlantic Inferno, Lady Penelope invites Jeff to join her for a holiday on her sheep farm in Bonga Bonga, Australia.
Jeff is reluctant, but his sons convince him to take a break and Scott is placed in temporary command of International Rescue.
While Penelope awaits the arrival of her guest, flying his JT1 Condor aircraft, she spends the time counting her 200,007 sheep, with a Sheep Counting Meter.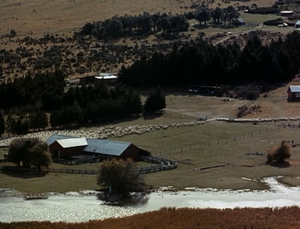 Farm House interiors
A Visit From Jeff Tracy
Jeff is eventually convinced to pack his bags and depart for Bonga Bonga, to join Penelope. Back at home, though, an emergency call from John comes in: a gas field, set alight by a rogue torpedo, is threatening a drilling rig called Seascape. Scott launches the necessary Thunderbirds to deal with the fire, but father and son clash over whether it was the right decision.
Time to go Home?
Jeff is furious when he finds out that International Rescue has been involved in aiding Seascape, and tells Penelope that he's abandoning his holiday. Penelope hears him out, as he paces restlessly back and forth. "You're a good father, and you're naturally anxious," she tells him...
Stressful Times - Relaxing Times
Penelope eventually manages to persuade Jeff to stay (and she calls Scott, to let him know); but Jeff remains uncomfortable with having left Scott in charge back at base...
Return To Tracy Island
Jeff hears that International Rescue is needed again, to save the crew of the Seascape; and so he returns to Tracy Island, accompanied by Penelope. Scott refuses to grant him landing permission as Thunderbirds 1 and 2 are due back shortly...
Back Where He Belongs
Back behind his desk at last. Jeff is glad to return to work: it's the only way he can relax!
Cutaway Drawings
As far as is known, only two cutaway drawings of the Ranch exists. Both were illustrated by Graham Bleathman. One appears in a Redan comic that was published in the 2000s, and the other featured in the Thunderbirds comic, by Fleetway.
Trivia