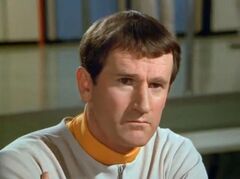 Keith Alexander is an Australian-born British actor and voice actor.
He has featured in a number of Gerry Anderson productions.
He voiced John Tracy and the imposter Carter in the 1968 film Thunderbird 6. He also served as the film's narrator.
Alexander also voiced Sam Loover and numerous supporting characters in the TV series Joe 90 (1968-69). His other Anderson appearances are the 1969 film Doppelgänger, the TV series The Secret Service (1969), and UFO (1970) as Lt. Keith Ford.
External Links