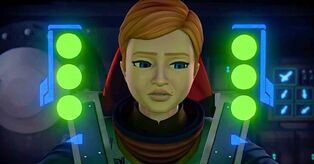 Juliette Martin is a French space freighter pilot who was leaving Earth's orbit when unfortunately she had a collision with another space pilot Barrett Bell. Both pilots blamed each other for the accident as they were in each other's flight path, and even John Tracy couldn't stop their argument.
Alan Tracy aboard Thunderbird 3 was called to get the two pilots out of their mess. However, debris from the collision came round and once it hit the space freighters, it damaged Juliette's life-support systems. With John's assistance, Alan got Juliette and Barrett out of their space freighters before they were destroyed.
Although they argued at first, Juliette and Barrett quickly became friends as they both apologised to each other for the collision, and they both agreed to have pizza once they got back to Earth.
Juliette Martin appeared in Crash Course, and voiced by Teresa Gallagher.