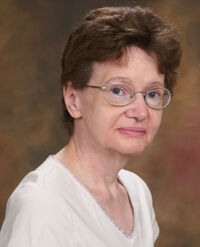 Joan Marie Verba (born December 12, 1953) is an American author. She wrote 6 of the 7 FTL Thunderbirds stories: Countdown To Action!, Action Alert!, Deadly Danger!, Situation: Critical!, Extreme Hazard!, and Danger Zone!.
Biography
Joan Marie Verba earned a bachelor of physics degree from the University of Minnesota Institute of Technology and attended the graduate school of astronomy at Indiana University, where she was an associate instructor of astronomy for one year. She has worked as a computer programmer, editor, publisher, health/weight loss coach, and social media manager. An experienced writer, she is the author of the nonfiction books Voyager: Exploring the Outer Planets, Boldly Writing, and Weight Loss Success, as well as the novels Countdown to Action, Action Alert, Deadly Danger, and Situation: Critical, plus numerous short stories and articles. She is a member of the Science Fiction and Fantasy Writers of America, and the Society of Children's Book Writers and Illustrators.[1]
Notes
↑

Biography by FTL Publications
Community content is available under
CC-BY-SA
unless otherwise noted.