"I'm sorry, but in my job I have to be careful."
Jimmy Bondson is an agent with the British Security Service who contacts Thunderbird 5 one day, seeking the assistance of International Rescue - and telling space monitor John Tracy that unless IR does help him, the entire world could be destroyed.
John calls in to Tracy Island for guidance on this "kind of unusual" emergency call: "I don't know what to make of it," he admits to his father. "OK, give me the details wherever we can reach this guy," Jeff responds. "Then, tell him we'll send one of our agents to contact him..."
Bondson - voiced by Ray Barrett - appears in (and is) The Man From MI.5.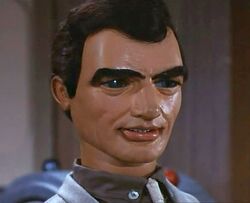 Biography
A Search Too Late
Somewhere off the French Riviera, MI.5 agents Bondson and Tidman arrive at Captain Blacker's Yacht - just as it explodes! Jimmy dives down to the sunken ship, and finds that he's too late - Blacker is dead, not from the explosion but murdered; and someone has taken the plans of a Nuclear device that were hidden inside a torch battery.
A Meeting with an International Rescue Agent
While waiting in his hotel room, Bondson gets a phone call - from a female voice identifying herself only as an International Rescue agent. A meeting is arranged for that night, in the Forest of Digne.
Warned at gunpoint not to turn around, he explains that top-secret plans of a nuclear device have been stolen. Reminded that it is against International Rescue policy to engage in police or espionage matters, he replies that IR has the most advanced equipment in the world, and is the only chance of retrieving those missing plans. The agent (Lady Penelope) listens - and then agrees to help him...
The Plans Returned
Bondson again hears from his still-mysterious IR contact, who informs him that the plans have been recovered. They meet back in the forest - where Bondson finds them, safely esconsed in a tree.
Trivia
Bondson is the Thunderbirds version of fictional British Secret Service agent James Bond (Agent 007).
Bondson also appears in the 'Lady Penelope' strip in the Lady Penelope comic magazine, issue 44, 1966.