The Jet-Air Transporter (also known as the Hoverbed) is an International Rescue pod vehicle that helps save people jumping off heights. Turbo fans on the Jet-Air Transporter help people float. Anyone jumping who comes within 20 feet of the turbo fans will be saved, due to the Jet-Air Transporter having a "catchment" area incorporated into its technology.
Usage
After Alan and Grandma Tracy were left stranded on San Miguel Bridge, with a bomb set to detonate, International Rescue were summoned for a rather personal rescue.
After the bomb's motion sensor had been neutralized, Alan and Grandma had to be evacuated before the bomb went off. This was achieved using the Transporter, which was positioned on the base of the bridge, underneath the platform they were trapped on. From there, it was safe for them to simply jump off, knowing full well that Virgil Tracy would be there below to catch them.[1]
Cutaway Drawing
Main article: History of the Cutaway Drawings (Classic Thunderbirds)
As far as is known, only one cutaway drawing of the Jet-Air Transporter exists. Illustrated by Graham Bleathman, it appeared in the Haynes Thunderbirds manual.
Trivia
It is carried in Pod 1.
In Gerry Anderson's Joe 90 episode Colonel McClaine, the tiny model of the Jet-Air Transporter appeared in the opening scene, still in the same colour scheme and 'International Rescue' still visible on its bed. However, in rather sinister fashion, the stumps of Virgil Tracy's legs are also visible.
The puppet-scale model would also go on to appear in Captain Scarlet and the Mysterons, modified slightly to appear as a satellite dish.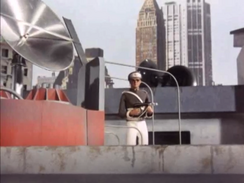 References