Jeremiah Tuttle, codenamed Agent 47, is an International Rescue agent residing somewhere in a Southern state of America with his mother in a remote bungalow. He only appeared in The Impostors.
Biography
Jeremiah was quite a character. Jeff Tracy met him when he was in the service, he worked on the Base. Always doing favours, straight as they come. Jeff made him an agent, as he guessed about his plans and what he hoped to do one day. Jeremiah asked to help, and Jeff couldn't refuse.
Jeremiah is a hillbilly (people who dwell in rural, mountainous areas in the United States, primarily in Appalachia and the Ozarks) who lives with his mother in a wooden shack, which has been provided with a hidden communications device built into his kitchen stove. His car, a Ford Model T, has been modified to significantly increase its speed.
Agent's Map
Posing as a fellow reporter, Lady Penelope receives vital information from Eddie Kerr which enables Jeff Tracy to pinpoint the impostors in the area covered by Jeremiah Tuttle.
Jeff Tracy point to the map of Utah, on which is a red dot indicating that Jeremiah lives south of Lake Sevier, near the Frisco mountain.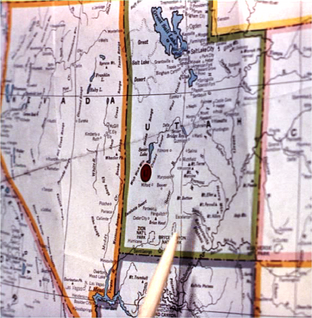 A Mission To Catch An Impostor
Remembering Jeremiah's report of aircraft tracks, Jeff sends Lady Penelope to investigate. Jeremiah and his mother set off in their Ford Model T pickup to meet Lady Penelope en route.
Lady Penny Lope Arrives
Jeremiah takes Parker and Lady Penelope back to his house, where she makes plans to go up to the old mine. Jeremiah volunteers to go after the impostors, but Lady Penelope insists she will deal with them herself.
The Old Mine
Lady Penelope and Parker arrive at the old mine, (the impostors' hideout), but they are spotted by the impostors, who open fire on them. Fortunately Jeremiah and his mother have followed Lady Penelope and Parker into the woods and flush the two villains out of the mine with Ma Tuttle's Explosive Beans, International Rescue are exonerated.
Trivia
Jeremiah refers to Lady Penelope as "Penny Lope".
The Jeremiah Tuttle puppet was sculpted by Joy Cuff.
The same puppet also appears as the guitar player in Path Of Destruction.