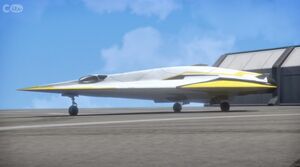 Icarus was a supersonic jet, designed and built by Professor Kwark to break the world air speed record; the current record was previously set by Jeff Tracy. 
During its appearance at an airshow, also with guest attendance from International Rescue, Icarus set a new world air speed record; however, it developed a malfunction and wouldn't slow down. Quickly, Thunderbird 1 set off to rescue Professor Kwark, but even with his Thunderbird's top speed at Mach 19, Scott Tracy was force to abandon his rescue attempt as Icarus was becoming too unstable to control. 
So then, Virgil Tracy launched Thunderbird 2 to create a cloud formed like a skateboard ramp, to force Icarus into space. Then, Alan Tracy and Kayo set off in Thunderbird 3 to rescue Professor Kwark as Icarus was low on fuel and oxygen. Professor Kwark bailed out, just seconds before Icarus exploded. Luckily, Alan brought her safely back aboard Thunderbird 3, and once back at the air show, Professor Kwark said it was back to the drawing board for the Icarus, despite her world record achievement.