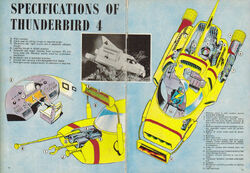 Cutaway drawings (sometimes erroneously referred to as cross-sections) have always been a big favourite, and has played a major part in the success of Thunderbirds publications over the years.
As early as 1966 the first cutaways were published within the "City Magazines Christmas Annual" and were repeated many times in the following years. With the revived interest in Thunderbirds in 1991, a whole new run of cutaways were produced by Graham Bleathman.
Graham was again commissioned in 2012 by "Haynes" to draw a completely new set of drawings that turned out to be so popular, the book has had to be reprinted at least three times.
Publications Containing Thunderbirds Cutaways
Thunderbirds Related Cutaways
The Cutaways can be found on their relevant pages. The following is a list of what publication they were originally published in.
International Rescue Buildings and Equipment
Cutaway Drawing
Publications Printed In
Magazines Printed In
(issue number)
Tracy Island
2, 3, 7, 8, 18, 19, 26 ,29, 30
5 (6) 33(3)
Launch Bay Thunderbird 1
3, 29, 30
22(21), 22(62), 22(80)
Launch Bay Thunderbird 2
3, 29, 30
22(39), 22(63), 22(82)
Launch Bay Thunderbird 3
3, 29,
22(42), 22(69)
Tracy Villa
29, 30.
22(32)
Jeff Tracy's Desk
22(58)
Mateo Island
27, 29, 30
5(30)
Mobile Control Unit
22(66)
BR2 Lightning 505
29, 30
22(41)
JT1 Condor
29, 30
22(56)
Ladybird Jet
29, 30
22(60)
Braman
18
Jeremiah Tuttle's House
22(20)
The Thunderbirds Craft and Pod Vehicles
Cutaway Drawing
Publications Printed In
Magazines Printed In
(issue number)
Thunderbird 1
1, 2, 3, 6, 9, 10, 17, 18, 19, 24, 25, 26, 27, 29, 30, 34
5(1), 22(1)
Thunderbird 2
1, 2, 3, 5, 6, 9, 10, 17, 18, 19, 21, 24, 25, 26, 27, 29, 30, 34
5(2), 22(2), 33(1)
Thunderbird 3
1, 2, 3, 6, 11, 12, 17, 18, 19, 24, 25, 26, 27, 29, 30, 34
5(3), 22(3)
Thunderbird 4
1, 2, 3, 7, 11, 12, 17, 18, 20, 24, 25, 26, 27, 29, 30, 34
5(4), 22(4), 34(4)
Thunderbird 5
1, 2, 3, 7, 11, 12, 17, 18, 20, 24, 25, 26, 27, 29, 30, 34
5(5), 22(5)
Booster Mortar
29, 30
22(31)
DOMO
29, 30
22(12)
Dicetylene Cage
29, 30
Elevator Cars
29, 30
22(51)
Excavator
29, 30
22(23), 22(81)
Field Mission Half-Track
29, 30
Firefly
3, 18, 27, 29, 30, 31
5(15), 22(15), 22(78)
Hoverjet
22(10)
Jet-Air Transporter
29, 30
Laser Cutter Vehicle
29, 30
22(59)
Mobile Crane
29, 30
22(50)
The Mole
3, 13, 18, 20, 26, 27, 29, 30, 34
5(8), 22(35), 22(84)
Monobrake
29, 30
22(52), 22(87)
Neutralizer Tractor
29, 30
Recovery Vehicles
29, 30
22(11), 22(76)
Transmitter Truck
29, 30
22(17)
Lady Penelope's Buildings and Equipment
Cutaway Drawing
Publications Printed In
Magazines Printed In
(issue number)
Inside the Creighton-Ward Stately Home
18, 20, 24, 26, 27, 34
5(7), 22(33), 22(83)
Lady Penelope's Bonga Bonga Ranch
27
5(27), 22(57)
FAB 1
22(7)
FAB 2
18, 24, 26, 27, 29, 30, 34
5(16), 22(24), 22(88)
The Hood's Buildings and Equipment
Non International Buildings and Equipment
Cutaway Drawing
Publications Printed In
Magazines Printed In
(issue number)
Aircraft Carrier "Atlantic"
27
5(29)
Coast Guard Launch
22(54), 22(86)
City of London Heliport
22(74)
Crablogger
24, 26, 27, 30, 34
5(18), 22(25), 22(89)
EJ2 Jet
22(73)
Fireflash
18, 27, 30
5(9), 22(26)
Fire Tender
22(53)
Fire Truck
22(65)
Gray & Houseman Road Builder
27, 30
5(25), 22(6), 22(75)
Gray & Houseman's Explosives Truck
22(46)
Jumping Jack HeliJet
27
5(23)
Helijet (Copter Watchdog)
22(67)
International Space Control
22(71)
London International Airport
22(40)
The Lost Pyramid of Kamandadees
14, 16, 27
5(14), 22(13)
Martian Space Probe
27, 30
5(22), 22(47)
Empire State Building
13, 18, 27
5(10)
Ocean Pioneer II
22(9)
Pacific Atlantic Monorail
23, 27, 30
5(17), 22(8)
KLA Satellite
22(22)
RTL-2 Transport Aircraft
22(18)
Saharan Atomic Station
22(38)
Seascape
23(28)
U.S.N. Sentinel
30
22(45)
Security Robot
22(29)
Sidewinder
24, 26, 27, 31, 34
5(11), 22(49), 33(2)
Skyship One
[?]
[?]
Skythrust
22(30)
Sun Probe
26, 34
22(36)
Telecommunications Relay Tower
22(61)
Thompson Tower
22(68)
Wombat Carrier Jet
22(64)
Zero X
25, 27
Zombite Fighter
22(37)