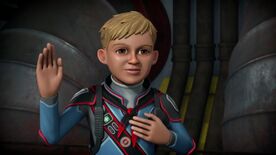 Henry is a Rescue Scout who, alongside his friend Bee, became trapped inside an old Crablogger when there was a forest fire.
Scott Tracy came to rescue Henry and Bee, revealing himself a former member of the Rescue Scouts, much to his amazement.
At the time of the forest fire, Henry is a 'buzzard' in the Rescue Scouts; but after the rescue mission, Scott was very confident that he and Bee would also become 'falcons'.
Henry was voiced by Matthew Gilmour Wright, and appears in Firebreak.