A helijet is a multipurpose jet-powered VTOL (vertical take-off and landing) aircraft. Helijets have been used by both government and civilian organisations. Throughout the series, several different variants of the helijet have appeared.
U.S Army Helijet
This variant of helijet was employed by the US Army. It appeared in Pit of Peril. It also appeared on a heliport next to Thunderbird 1 in Vault Of Death.
World TV Helijet
This variant is one of the helijets employed by civilian organisations. It appeared in City Of Fire.
Gray & Houseman Helijet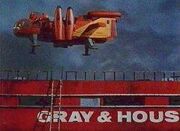 This variant was employed by the Road Company Gray & Houseman. It appeared in End Of The Road.
Pacific-Atlantic Monorail Helijet
A fleet of these helijets were bought by Warren Grafton. Two of them appeared in Brink of Disaster.
Skymaster Helijet
One was owned by the Erdman Gang Leader for use by him and the rest of his gang. It featured in the episode 30 Minutes After Noon, where it ended up being destroyed by FAB 1's grille machine cannon.
One was owned by the World TV company. It appeared in The Impostors.
Attack Helijet
This is another military helijet that was used during the search for Tracy Island. It appeared briefly in The Impostors. It made another brief appearance at Matthews Field Air Base in The Cham-Cham.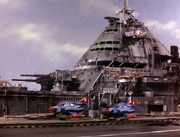 As their name suggests, they are used by the World Navy. They appeared in Atlantic Inferno.
Hospital Helijet
In the episode Desperate Intruder, Professor Blakely was flown to hospital in a red and white painted version of the standard army helijet.
Trivia
Most of the helijet models were made from old helicopter kits.