You might also be looking for the 2015 incarnation.
"Goodness! I just can't believe that I'm joining (the) International Rescue team at last. I'm dead proud of you boys, and the wonderful things you do."
Grandma Tracy is the mother of Jeff Tracy, grandmother of his five sons (with his late wife, Lucille), and matriarch of the Tracy family.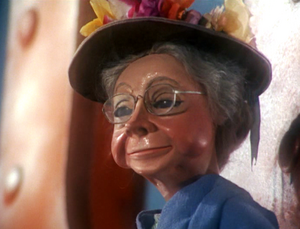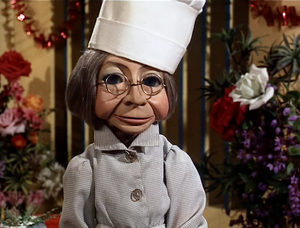 Biography
Grandma has witnessed remarkable changes in the world, and in her own family, over her lifetime: she's seen her son Jeff land on the Moon, and her five grandsons (who she helped raise, after their mother died) grow up and embark upon adventurous careers of their own...culminating in the founding of International Rescue.
Having adapted to life on Tracy Island, she enjoys looking after her extended family; including Kyrano (they agree to disagree, in the kitchen!), his daughter Tin-Tin (might there be a bit of match-making, going on?), and resident genius Brains. They're all protective of her, too, in their fashion. She's game to pitch in and help, where she's able, with rescues; and she even helped save one, with some important information! And, while "visitors are few and far between," she makes certain that guests are well looked-after: from youngsters Tony and Bob Williams and Nicky, to Lady Penelope and Parker...
With all her brood nestled under the same roof (Thunderbird 5 shift-changes notwithstanding), Grandma is the emotional heart of the Tracy Villa, which her loving care has made into a real family home.
Appearances
Grandma appears in 17 episodes: Terror in New York City (cameo), Day Of Disaster, Desperate Intruder, End Of The Road, The Uninvited, Operation Crash-Dive, Vault Of Death, The Mighty Atom, The Man From MI.5, Cry Wolf, Move And You're Dead, The Duchess Assignment, Attack of the Alligators!, The Cham-Cham, Lord Parker's 'Oliday, Ricochet, and Give or Take a Million.
She also appears (albeit in a non-speaking role) in the movie Thunderbird 6.
Main article: Grandma Tracy/Appearances
Adventures
Move and You're Dead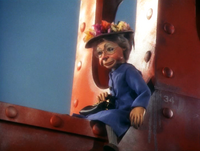 Main article: Grandma - Don't Move!
End of the Road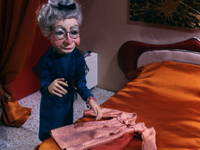 Main article: Grandma Plays Cupid
House
Main article: Grandma Tracy's House
Outfits
Main article: Grandma Tracy/Outfits
Trivia
Unlike many other recurring characters in Thunderbirds, much of Grandma's personal life is unknown (even her first name!). She was born in the late 1980s, and her grandmother once told her about the old subway systems that existed across the world before Monotrains were invented...
Grandma's puppet was sculpted by John Blundall, who also made Kyrano and Parker; and was provided with "normal," "smiler," "frowner" and "blinker" heads.
Quotes