For his 2015 namesake, see Francois Lemaire (TB2015).
"Oh, Penelope! This is too much! Bugs in the flowers, Peeping Thomases at the window, pens that send messages. Oh, I need reviving."
François Lemaire is a character from Alias Mr. Hackenbacker. He is a fashion designer who has developed a new fabric with some unique characteristics. He named it Penelon, after his good friend Lady Penelope.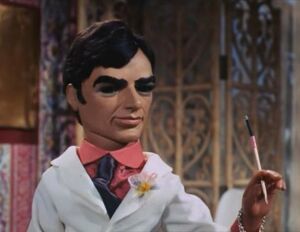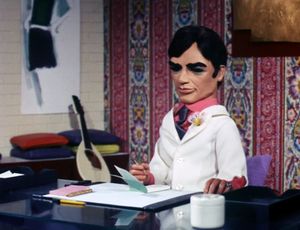 Biography
François sends a telegram to Lady Penelope, asking her to visit him in Paris.
On arrival at his apartment, François asks Lady Penelope a favour, he wants her to model his new fashion collection at the premiere. Lady Penelope is always ready to help in good causes and asks "what wonderful surprises have you got in store for us this season?" François assures her his creation will go down in history and the show will be a sensation.
As François starts to tell Lady Penelope about his secret material, she notices his apartment is bugged, with a device hidden in the flower arrangement. Looking through his telescope she also notices his apartment is also being watched from across the street, by a long-range television camera. After closing the curtains she tells François to continue with his secret, worried, he decides to write it down instead.
Impressor Pen and Sugar Lumps
As he starts to put pen to paper, Lady Penelope notices something quite not right with the pen and takes a closer look, just as she suspected a Impressor Pen.
Madeline is asked to bring in the tea, as this has all been too much for poor old Lemaire, and even the sugar lumps are bugged!.
Penelon
Lady Penelope is finally shown the outfits made from his secret fibre, Penelon and thinks of a safe place to hold the show. She tells François she knows just the place but needs to contact a friend first.
A Fashion Show Aboard Skythrust
Francois Lemaire's fashion show, finally took place aboard the Skythrust due to concerns over the security. Once the plane got into the air, Lemaire introduced his collection to a small selection of press and fashion buyers.
Main article: Francois Lemaire's Fashion Show
Hijacked
Hijackers try and steal, the collection, but Lady Penelope contacts International Rescue, and the gang are foiled.
Trivia