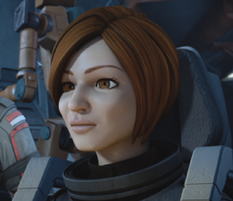 Finn is an astronaut aboard the Calypso spaceship who was trained by Jeff Tracy. She and her colleague Asher were inside their sleeping compartments homeward bound from a 8-year mission when they were woken up by Scott Tracy, who informed them about the faults with their ship. She told Scott how much he looked like his father.
Finn and Asher were transferred over to Thunderbird 3, as their spaceship Calypso with Braman taking the controls broke apart on re-entry and crashed into the ocean of the West African Coast.[1]
Finn was voiced by Laurel Lefkow.
References