Filmed in Supermarionation is a documentary about the many series created by Gerry and Sylvia Anderson. It was released in October 2014. The documentary features specially filmed footage of the puppets themselves, behind the scenes footage, rare archive footage, recreations of the Special Effects techniques used in Thunderbirds and other Gerry Anderson shows and "brand new" high-definition restorations of the original shows.
It is based on the book of the same name, written by Stephen La Rivière.
The Book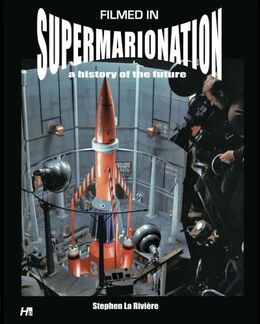 Author: La Riviére, Stephen
Publisher: Hermes Press
ISBN/EAN: 1932563237 / 9781932563238
Format: Paperback
Pagination: 208 pages, chiefly col. Illustrations
Dimensions: 292 x 229 mm, 839 grams
Country of Pub.: United States
Pub Date: 29/03/2009
Availability: Publisher out of stock
Price: $39.99 / £29.99
"For the first time, a complete history of the Gerry and Sylvia Anderson television productions which pioneered science-fiction special effects. Film historian Steven La Rivière, whose documentary about Supercar was the final word on the series, takes you behind-the-scenes and covers every aspect of the creation and production of such television shows as Supercar, Fireball XL5, Stingray, Thunderbirds, Captain Scarlet, Secret Service, and Joe 90. The book also covers the Anderson's efforts from the beginning including Torchy and Four Feather Falls. This full-color art book is packed with hundreds of never-before-seen production photos, artwork, and illustrations making this the definitive book on the subject."
The One Show
To promote the documentary to the masses, a special edition of BBC1's The One Show was aired on 10th October 2014, which involved show presenter Chris Evans dressing up in a shiny blue International Rescue outfit, and guest appearances from Parker and Brains. The show started with five interesting facts about Thunderbirds:
International Rescue was inspired by a real-life mining disaster in West Germany in 1963.
Each character in the show had five different heads, for their expressions. (In reality though, they had upto five different heads).
Scott Tracy is modelled after Sean Connery, who was James Bond in the years Thunderbirds was in production and originally on air.
The National Physics Laboratory once wrote to Gerry Anderson, saying Thunderbird 2 is aeronautically impossible.
Closer examination of Thunderbird 1's hangar shows a lemon squeezer on the wall.
Then, Parker gave the audience an insight into Century 21's early days, of making TV shows and adverts with puppets on strings. David Graham was later interviewed and also talked about the story about the Pub and waiter who helped him invent the voice for Parker.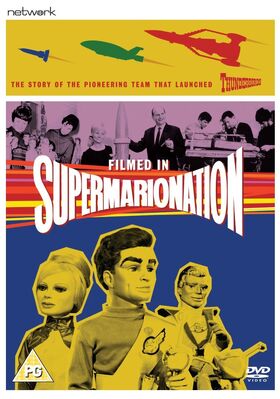 Official Website