The standard Global Carrier (The Cobra) All Terrain Vehicle is powered by a gas turbine engine - as is its sister vehicle, the 12 wheeled Spider.
Due to its half-track configuration, however, it's considerable slower than the Spider.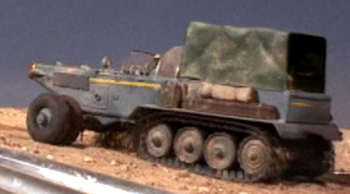 Field Mission Half-Track, in use
The Mighty Atom
In the episode The Mighty Atom, The Hood is seen driving his Half Track across the Sahara Desert, on his way to the Saharan Atomic Station.

Desperate Intruder
A super-tuned version of the Cobra All Terrain Vehicle is used by International Rescue, for survey and field- testing expeditions in remote areas.
In the episode Desperate Intruder, Brains and Tin-Tin take IR's half-track to Lake Anasta (via a lift from Virgil and Thunderbird 2). The specially-modified half-track towed an air-conditioned caravan train with accommodations for three people, as well as laboratory and lounge areas.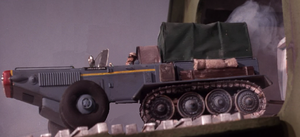 Main article: Brains' Desert Jeep
The Uninvited
In the episode The Uninvited, archaeologists Wilson and Lindsey used the Desert Jeep on their expedition to find the Lost Pyramid of Khamandides.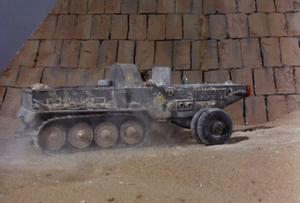 Main article: Desert Jeep
Cross-section (Cutaway Drawing)