"Fear Factor" is the seventh episode of Thunderbirds 2086, and fourth produced overall. The episode first aired in Japan on May 8, 1982.
Plot
Orbital Station L-80 has entered a spiraling descent. Kallan James' student, Jared Reynolds, joins the crew in the effort to save his father's life work. Will Reynolds overcome his crippling astrophobia in time?
Gallery
Quotes
(To Be Added)
IRO Equipment Used
Trivia
First Mention: Shadow Axis
Goofs
The Thunderbird team know who the Shadow Axis are, despite the organisation not revealing their existence until two episodes later.
Anderson Stock Library
Foreign Name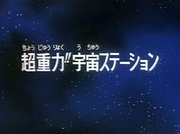 Japanese: Super Gravity!! The Space Station 
(超重力!!宇宙ステーション)