We're Getting Mutants in the MCU - The Loop
Play Sound
FAB 1 was a pink Rolls-Royce saloon car owned by Lady Penelope and driven by her manservant Parker.
It was made for the Creighton-Ward family and was Lady Penelope's preferred mode of transport. It had been modified by Brains and the Rolls-Royce company.
Some of the modifications included: Front and rear machine cannons, rear harpoon cables, two rear laser cannons, a rear-view TV camera, bulletproof tires with retractable studs, a modified gas turbine engine, skis for snow use, and hydrofoils enabling it to travel on water.
FAB 1 was presumably destroyed when Skyship One crashed to the ground in the movie Thunderbird 6.
Features
[
]
Grill Machine Cannon
[
]
The grille-mounted machine cannon could fire in non-automatic and automatic mode and could be loaded with explosive rounds.
Non-automatic Headlight Machine Cannon
[
]
Two non-automatic headlight machine cannons which can act like sniper rifles — one stored behind the three headlights either side of vehicle.
Rear Mounted Machine Guns
[
]
Used in Brink of Disaster while being chased by crooks.
Smoke Release
[
]
The smoke release could release thick smoke to lose pursuers.
Oil Release
[
]
Oil could be poured onto road from the back of FAB 1 in an effort to eluded being followed.
Used in Brink of Disaster while being chased by crooks.
Harpoons
[
]
The harpoons, with the cable attached, could be used to shift heavy objects or pull down a door. Without the cable, they could be used as a weapon.
In The Perils of Penelope, Lady Penelope and Sir Jeremy Hodge are trapped in a basement filling with gas, Parker fires FAB 1's rear mounted harpoons into the locked door so he can pull it off its hinges, enabling them to escape.
Hydrofoils
[
]
FAB 1's Hydrofoils enabled it to travel over water at high speeds.
Elevator
[
]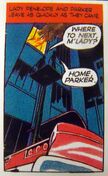 In the comic strip story Mr Steelman (which was its first ever appearance), FAB 1 had an elevator in the boot. This particular gadget was never seen on the show, but it also appears in at least one cutaway drawing, and got a mention in the book Thunderbirds Manual (Agents' Technical Manual).
"Down and Under" Doors
[
]
Retractable doors: FAB1 was fitted with a unique retractable door mechanism for ease of access.
(1),(2) & (3) door swings down until level with car floor. (4) Door slides under car floor to give easy access.
Of course, to enable people to enter or exit in a dignified manner, the glass canopy had to be raised up as well. FAB 1 was only ever seen with a raised canopy in the movie Thunderbirds Are Go, first in the dream sequence, and again later, when Alan meets up with Penelope after the rescue.
Megaphone
[
]
FAB 1 also featured a megaphone, which can be heard by people outside the car. Parker uses the megaphone in The Man From MI.5, when he tells Jimmy Bondson: "The lady said don't move!"
Technical Data
[
]
Inside FAB 1
[
]
Telecall Communications
[
]
Appearances
[
]
FAB 1 appeared in 14 episodes and 2 films.
Episodes
[
]
Films
[
]
Behind The Scenes
[
]
Cutaway Drawings
[
]
FAB 1 has appeared in no less then eight different publications, in five basic designs, four of which are illustrated by Graham Bleathman.
Life Size FAB 1
[
]
At least three full-size FAB 1's have been built. One is currently on display at the Dezer Car Museum in Miami, Florida; another one was built to promote the movie Thunderbird 6. The third was built by Thunderbirds fan Melvin Jarvis.
Memorabilia
[
]
There have been many FAB 1s produced over the years, both in model and kit form. Some are now very hard to find.
Construction Kits
[
]
Lincoln Toys
[
]
Lincoln Toys of Hong Kong also produced a FAB 1 in a simple clip-together kit in 1967. It is now very rare in unassembled condition.
FAB 1 Models
[
]
For Dinky Toys see:
Century 21 Toys, made by J.Rosenthal of Hong Kong released the first toy FAB 1 in 1965, in two versions, Battery-operated and a cheaper Friction drive model. Both now are very rare and command a high price when sold.
Dinky Toys also produced a FAB 1 in 1966 and it was so popular that it was re-released many times, creating several different versions. The main differences are in the shades of pink paint and variety of wheels. Packaging also varied over the ten year it was produced. Corgi Models produced the "Dinky" FAB 1 in the late 1990's and again, like Dinky, re-released it by popular demand. A special 40th Anniversary edition was released in 2005.
Probably the most common of the lot is the Matchbox version, produced in the 1,000's in 1992. Due to being mass-produced, it can still be found quit cheaply for sale. It was also given away by "Kellogg's Frosties" in 1993 as part of an on-pack promotion.
A more rare version was released in Spain by Estrela (1995).