Eddie Kerr is a character first seen in City Of Fire. Eddie works as a World TV reporter. He is seen reporting from a helijet on the newly completed Thompson Tower.
Eddie makes an appearance in two more episodes: The Mighty Atom and The Impostors.
In The Impostors, his name is finally given as Eddie Kerr.
City of Fire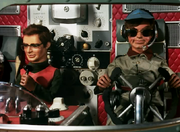 Reporting from a helijet Eddie reports on the opening of the new Thompson Tower.
The Mighty Atom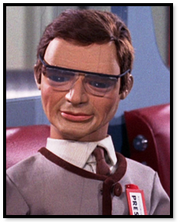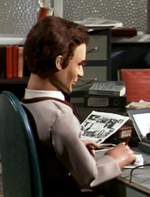 Eddie is among the reporters who are given a tour of the atomic irrigation station on board the atomic irrigation station tour bus.
The Impostors
The Fake Rescue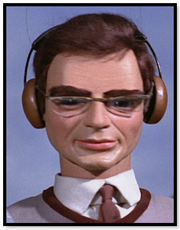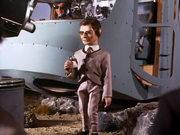 At the fake rescue, Eddie reports from beside the mine shaft, after arriving in a helijet.
Interviewing General Lambert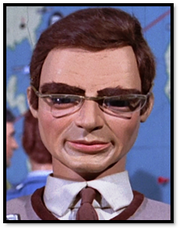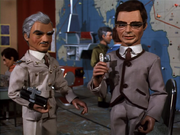 Working for World Television, Eddie broadcasts from the Central Office of the General Staff Command, giving viewers an update from General Lambert, on the progress in the hunt for the "impostors".
A Visit from a Fellow Reporter
Posing as a fellow reporter, Lady Penelope receives vital information from Eddie Kerr which enables Jeff Tracy to pinpoint the impostors in the area covered by Jeremiah Tuttle.
Trivia
Puppet
The Eddie Kerr puppet appeared in the following 12 episodes (episode numbers refer to production order):
It also appeared twice in the movie Thunderbirds Are Go: as a Space Board member, and as a reporter at the Press Conference. In Thunderbird 6, it played a diner at the Whistle Stop Inn.